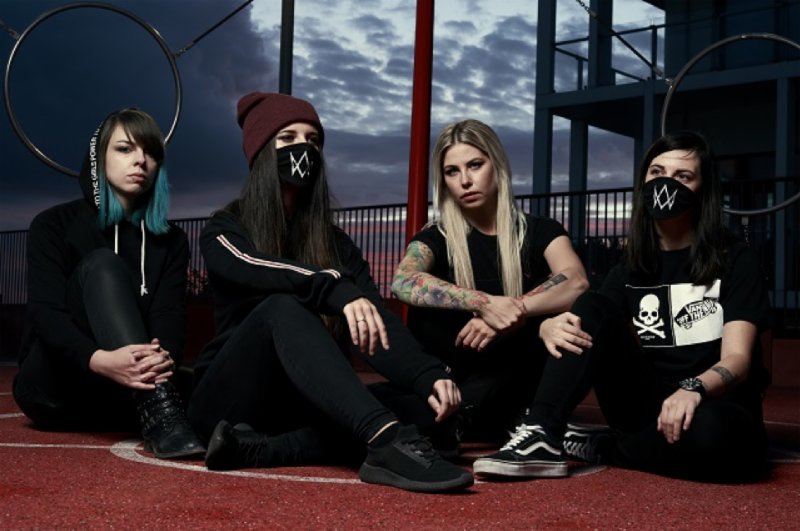 The Danish all-female Metalcore band IVY CROWN has released anew single with video today, named "Not Who We Are". The song is the third single taken from their upcoming debut full-length album scheduled for October 2019.
The band says about the song:
"Not who we are is about how life can be difficult, and how you feel pressured, stressed, depressed and all that can lead you to get different diagnoses you get medicated for. But it gives you a false feeling of happiness and you actually never feel completely happy. The video illustrates the zombie state you get in"
IVY CROWN is a melodic metalcore quartet hailing from the cold streets of Copenhagen, Denmark. Captivating vocals, tight compositions and a heavy sound are all in the formula of their debut album, "Echo." These women are geared to take on the world, and make some necks hurt.
IVY CROWN has risen from the ashes of Taras which was a well-known Danish all-female punk rock band that played shows all over Denmark and the UK, with arena shows and their own episode on Danish national television, DR.
After releasing their lead single "Lonesome and Cold" in February 2019, which now has more than 200,000 streams, followed by second single "Run" (now at 150,000 streams), the quartet is set to release their debut album in late 2019 through Long Branch Records. A captivating record about breaking free from poisonous relationships and standing up for yourself, but also about growing with every defeat you encounter.
The debut album will be recorded and produced by Chris Kreutzfeldt (Cabal) and with assisting vocal production by Mirza Radonjica-Bang (Siamese). The album has featuring performances by Kadeem France (Loathe), Kim Song Sternkopf (MØL) and Jesper Gün (Ghost Iris) – all talented people who complement the bands vision for the album very well.
For More Info Visit: