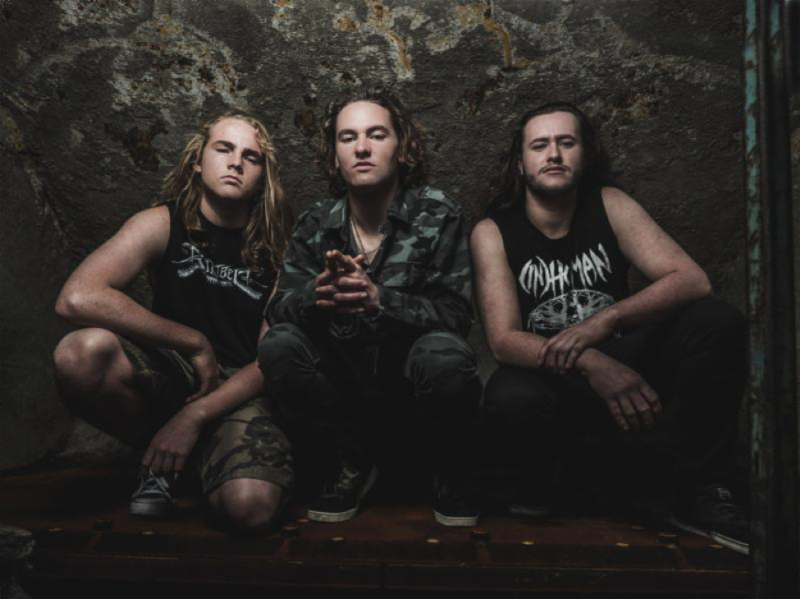 Including Brand New Songs "Ahi Kā" And "Blinded"
Currently On Headlining Tour in North America
New Zealand's Maori Metal Sensation ALIEN WEAPONRY release a strictly limited 7 Inch Vinyl, including the two brand new songs "Ahi Kā" And "Blinded". The three teenagers are celebrated worldwide as one of the hottest newcomer metal bands. After releasing the debut album Tū in 2018, ALIEN WEAPONRY toured Europe, North America, Australia and their home country of New Zealand extensively. They played the biggest festivals around the world and supported the legendary Ministry in the Us. In 2019 they'll go one step further by playing headline tours in the US and Europe and supporting Slayer on their last show in Germany ever.
ALIEN WEAPONRY on the two new songs:
Ahi Ka
"In 1952, in preparation for a Royal visit by Her Majesty the Queen, the Auckland City Council, in a misguided attempt to beautify the city, evicted the local Ngāti Whātua people from their village at Ōkahu Bay and burned it to the ground."
Blinded
"Relationships are difficult to understand at the best of times but when you are 16 and on tour all over the world these things are bound to get confusing and hard to reconcile. Blinded is about a very personal trip down this rabbit hole"
"We have had a very busy touring schedule ever since the release of "Tū" and we are stoked we managed to record two new tracks in the short break we had back home in New Zealand. We can't wait to play the new songs live!"
The new 7 Inch is the first new material since the debut album and is strictly limited to 400 pieces.
Pre-Order "Ahi Kā/Blinded"
NOW
!
About ALIEN WEAPONRY:
ALIEN WEAPONRY was formed in 2010 by brothers Lewis (vocals & guitar) and Henry de Jong (drums), who were 8 and 10 years old at the time. The two would later move to the small town of Waipu in 2012, and went on to meet Ethan Trembath (bass) there in 2013. The de Jong brothers came up with the name ALIEN WEAPONRY after watching the film District 9.
Both Lewis and Henry are of Ngati Pikiāo and Ngati Raukawa (Māori tribal) descent, and began their schooling at a kura kaupapa Māori (full immersion Māori language school) where singing waiata (songs) and performing haka were a daily routine. Also ingrained in their early education were stories of New Zealand history told to them by their father, who would also introduce them to the music of Metallica, Rage Against the Machine, Anthrax, Ministry, Red Hot Chili Peppers and many others.
Fans and music critics alike have applauded the band's approach to unifying Te Reo Māori (the native language of New Zealand) with thrash metal sensibilities; ultimately creating a sound that is driven by emotionally and politically charged conflict while boasting youthful, warrior-like resilience.
ALIEN WEAPONRY On Tour:
North America
5/24: Pryor, OK @ Rocklahoma*
5/26: Denver, CO @ Bluebird Theater
5/28: San Francisco, CA @ Bottom of the Hill
5/29: Los Angeles, CA @ The Roxy
European Tour
07.06.2019 DE – Berlin / Musik & Frieden
08.06.2019 DE – Frankfurt / Batschkapp
10.06.2019 UK – Cardiff / Fuel Rock Club
11.06.2019 UK – Bristol / The Exchange
12.06.2019 UK – Dublin / Vodoo Lounge
13.06.2019 UK – Glasgow / Audio Glasgow
15.06.2019 UK – Donington / DE74 2RP Castle Donington
16.06.2019 UK – London / The Underground Camden
18.06.2019 LX – Belval / Rockhal
19.06.2019 DE – Köln / Luxor
20.06.2019 DE – Hamburg / Uebel & Gefährlich
21.06.2019 DK – Kobenhavn / Copenhell Festival 2019
23.03.2019 FR – Clisson / Hellfest Open Air 2019
25.06.2019 DE – Saarbrücken / Garage
26.06.2019 DE – Hannover / Capitol
28.06.2019 FI – Helsinki / Tuska Festival 2019
03.07.2019 FR – Paris / Les Etoiles 61 rue du Chateau d´Eu
04.07.2019 FR – Toulouse / Rue Louis Bonin
06.07.2019 ES – Galicia / Resurrection Fest 2019
07.07.2019 PT – Lisbon / RCA Club
09.07.2019 ES – Sevilla / Sala Even
10.07.2019 ES – Madrid / Nasca Music Live
12.07.2019 ES – Barcelona / Sala Boveda
15.07.2019 IT – Milan / Circolo Magnolia
16.07.2019 IT – Padova / Parco Della Musica
20.07.2019 NL – Eindhoven / Dynamo Metalfest 2019
22.07.2019 SL – Tolmin / MetalDays Festival 2019
24.07.2019 HU – Budapest / Dürer Kert
27.07.2019 PL – Warsaw / klub Stodola Batorego
03.08.2019 DE – Stuttgart / Hanns-Matin-Schleyer-halle
06.08.2019 DE – München / Backstage Werk
07.08.2019 DE – Dresden / Alter Schlachthof
08.08.2019 CZ – Josefov / Brutal Assault 2019
10.08.2019 NL – Leewarden / Into The Grave Festival 2019
11.08.2019 BE – Kortrijk / Alcatraz 2019
16.08.2019 AT – Graz / Metal On The Hill Festival 2019
ALIEN WEAPONRY Online: