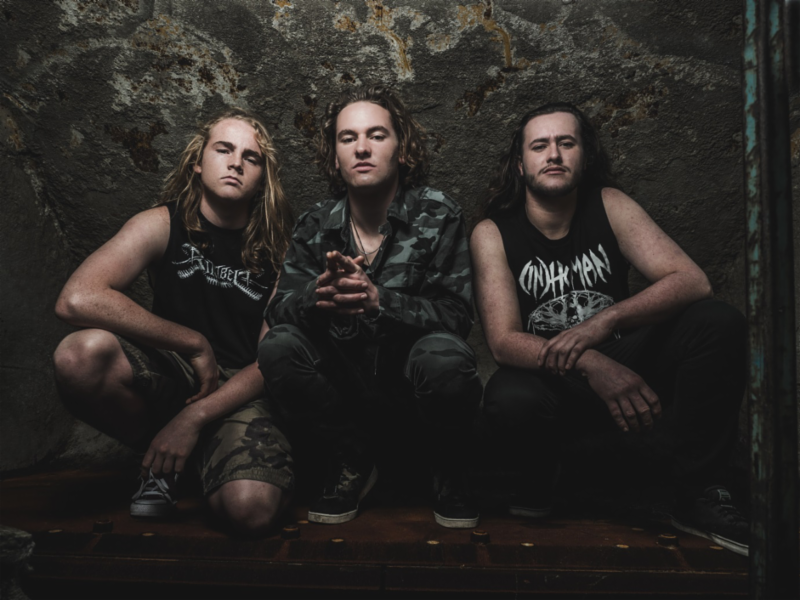 While all of us are patiently waiting for their new album, ALIEN WEAPONRY makes the wait a little sweeter by bestowing the new official video for "Blinded" upon us.
The video is receiving being exclusively premiered via Alternative Press. Get a first look at the video
HERE
.
The song is physically available on the almost sold out "Ahi Kā" 7 Inch Single (A-side: "Ahi Kā", B-side: "Blinded") now and talks about the difficulty of relationships. It focuses on how hard it is to reconcile and see through all the confusion when you're a teenager and travel around the world to play your music while trying to keep a relationship working. It is deeply personal and very touching, since probably everyone has felt something similar to this at least once in their lives.
[Video directed by Dwayne-Francis Kyle]

[Cinematography + Editing by Piotr Kwasnik]
ALIEN WEAPONRY on "Blinded":
"The song has very personal meaning for me, but we wanted the video to leave things more open, so people can interpret it their own way. Piotr and Dwayne have really captured the notion of altered realities that we were going for, and we hope people will find their own messages in the images and the music." – Lewis de Jong
Order "Ahi Kā" including "Blinded"
NOW
!
Order ALIEN WEAPONRY's breakthrough album 'Tū'
HERE
!
Alien Weaponry Live in Europe
12.07.2019 ES – Barcelona / Sala Boveda
15.07.2019 IT – Milan / Circolo Magnolia
16.07.2019 IT – Padova / Parco Della Musica
20.07.2019 NL – Eindhoven / Dynamo Metalfest 2019
22.07.2019 SL – Tolmin / MetalDays Festival 2019
24.07.2019 HU – Budapest / Dürer Kert
27.07.2019 PL – Warsaw / klub Stodola Batorego
03.08.2019 DE – Stuttgart / Hanns-Martin-Schleyer-Halle
06.08.2019 DE – München / Backstage Werk
07.08.2019 DE – Dresden / Alter Schlachthof
08.08.2019 CZ – Josefov / Brutal Assault 2019
10.08.2019 NL – Leewarden / Into The Grave Festival 2019
11.08.2019 BE – Kortrijk / Alcatraz 2019
16.08.2019 AT – Graz / Metal On The Hill Festival 2019
Alien Weaponry With Black Label Society and Black Dahlia Murder
9/11: Ventura, CA @ Ventura Theater
9/13: Boise, ID @ Knitting Factory Concert House
9/15: Missoula, MT @ The Wilma
9/16: Billings, MT @ Pub Station
9/18: Colorado Springs, CO @ The Black Sheep
9/19: Albuquerque, NM @ Sunshine Theater
9/21: Odessa, TX @ Dos Amigos
9/22: Houston, TX @ House of Blues
9/23: Baton Rouge, LA @ Varsity Theatre
9/25: Fayetteville, AR @ Fayetteville Town Center
9/27: Turtle Lake, WI @ St. Croix Casino
9/28: Belvedere, IL @ The Apollo Theatre
9/30: Kitchener, ON @ Elements
10/1: Cleveland, OH @ House of Blues
10/2: Pikeville, KY @ Appalachian Wireless Arena
10/4: Boston, MA @ House of Blues
10/5: Montclair, NJ @ The Wellmont Theater
10/8: Ft. Lauderdale, FL @ Revolution Live
10/10: Destin, FL @ Club LA
10/12: Manchester, TN @ Exit 111 Festival*
Alien Weaponry Headline Dates:
10/13: Kansas City, MO @ Riot Room
10/16: Window Rock, AZ @ Window Rock Sports Center
10/17: Phoenix, AZ @ Club Red
10/20: Anaheim, CA @ Chain Reaction
10/21: Sacramento, CA @ Holy Diver
10/23: Portland, OR @ Hawthorn Theatre
10/24: Vancouver, BC @ Biltmore Cabaret
10/26: Seattle, WA @ Chop Suey
*Festival
About ALIEN WEAPONRY:
ALIEN WEAPONRY was formed in 2010 by brothers Lewis (vocals & guitar) and Henry de Jong (drums), who were 8 and 10 years old at the time. The two would later move to the small town of Waipu in 2012, and went on to meet Ethan Trembath (bass) there in 2013. The de Jong brothers came up with the name ALIEN WEAPONRY after watching the film District 9.
Both Lewis and Henry are of Ngati Pikiāo and Ngati Raukawa (Māori tribal) descent, and began their schooling at a kura kaupapa Māori (full immersion Māori language school) where singing waiata (songs) and performing haka were a daily routine. Also ingrained in their early education were stories of New Zealand history told to them by their father, who would also introduce them to the music of Metallica, Rage Against the Machine, Anthrax, Ministry, Red Hot Chili Peppers and many others.
Fans and music critics alike have applauded the band's approach to unifying Te Reo Māori (the native language of New Zealand) with thrash metal sensibilities; ultimately creating a sound that is driven by emotionally and politically charged conflict while boasting youthful, warrior-like resilience.
ALIEN WEAPONRY Online: