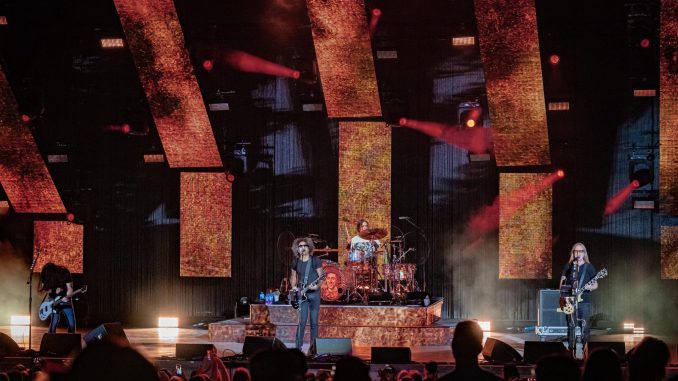 Story by:
Emily Tipping
The crowd at USANA Amphitheater got lucky on August 29, 2022 with four smokin' hot bands and, finally no rainstorms. The Venue has had significant amount of strong windy lightning and rainstorms this year that have caused delays, confusion and havoc. Not a cloud in sight with the hot sun blazing down on this West Valley, Utah. Thunderpussy, an all-female Seattle-based band came out dressed all in white like angels on display and truly impressed the crowd with their effervescent energy and rocking skills. Think: a female Led Zeppelin with a Grace Potter-like style and an Ann Wilson growling voice. It was literally 99 degrees with the sun directly in singer's Molly Sides face as they played a few songs of their own and also covered the Heart hit "Barracuda." I'm all about supporting women in Rock and Roll in the first place, and I still have to say that every band member was exceptionally talented. The band includes guitarist, Whitney Petty, bassist Leah Julius and drummer Lindsey Elias. Molly danced all over the stage, belted out the lyrics, all while staying in perfect pitch. The crowd and I had to give these rocking women credit where credit is due.
The blazing heat and the blazing performances continued. Bush's pounding drums echoed all the way back to the Oquirrh (`O-Ker') mountains as they opened with "The Kingdom". Their grunge hits "Machinehead" and "Quicksand" followed, bringing me back to my high school days listening to their CD. Next was "Bullet Holes", then "I don't believe that Elvis is dead!", lyrics from "Everything Zen" rang out towards the warm sunset, with lead singer and guitarist Gavin Rossdale playing off the reverb shaking his guitar in front of the giant white stack of speakers to wrap up the song. "Bloodriver" was played with extreme stamina and seasoned talent. Gavin ran through the crowd while singing "Flowers On A Grave" then shared that "It's a whole different world up there'', pointing to the GA grass section in the back he had just experienced. It really is a totally different and free ranging experience up there from having danced, sang and clapped in every part of the amphitheater. With everyone back on stage they begin "More Than Machines", played 'for the girls' and an acoustic and a cappella rendition of "Glycerine". During the last song, "Comedown", the elevated drummer seemed as if he was trying to break a drumstick or cymbal, playing notably louder than the rest.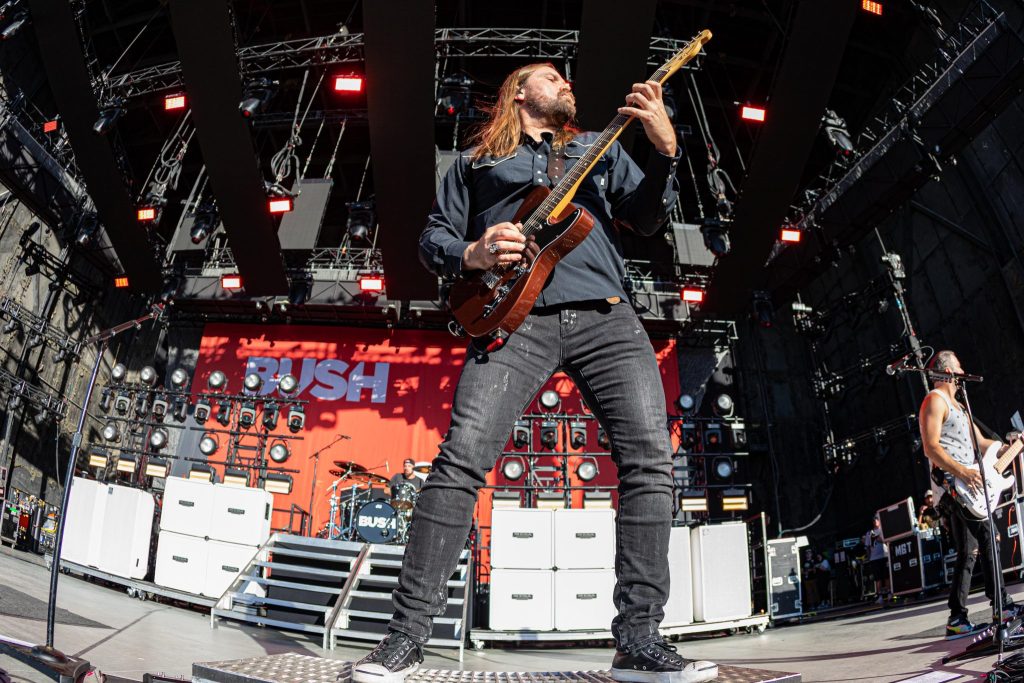 After a dramatic curtain drop, Braking Benjamin came out with "Blow Me Away" as pyrotechnics and fireworks blast off behind them, stunning the already primed fans. The heat from the flames seemed to sear us down in the pit. The sun was down, but the heat continued to rise as the bassist, Aaron Burch bust out his growling voice. They switched off on taking the lead in singing, exhibiting the depth of vocal talent in the band, with Keith Wallen taking "Sooner Or Later" and Aaron Burch on "Firefly". The powerful "Tourniquet" had the younger generation singing to every word. Heavy hard rockin' beats and dark mesmerizing harmonies were the hallmark of renditions of "So Cold" from the We Are Not Alone disc, "Angels Fall" off the album Dark Before Dawn and "Breath" off Phobia. "Failure" had great guitar mixes and the crowd sang along, "Tear the whole world down." We were treated to an oh so sweet snack of a beautifully slowed down intimate interpretation of "Who Wants To Live Forever" originally by Queen Jumping back up to play some hard rock and echoing riffs, the band launched into "Polyamorous". After announcing that this is their 20 year anniversary as a band, they kicked off "Give Me A Sign" and "Red Cold River", and a heavy distorted intro started off "Until The End". After "Torn In Two", the stamina kept going with "I Will Not Bow" before they chose "The Diary Of Jane" which had amystical sounds pairing perfectly to the fog machine as a great way to finish their hot set.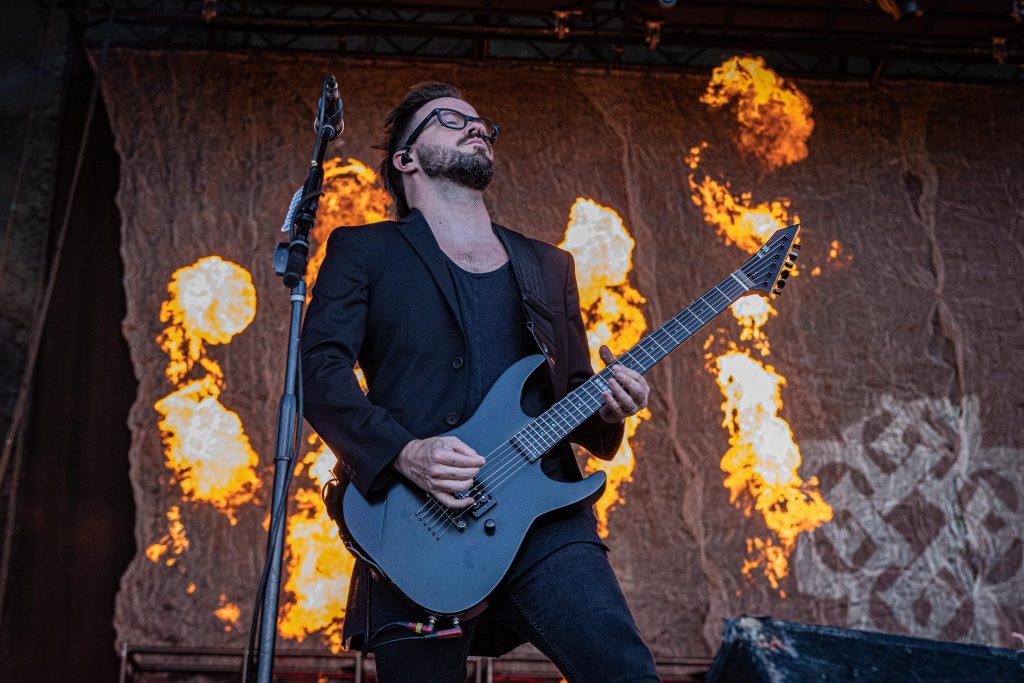 Alice In Chains was the highlight of the night, opening with "Again" and diving right into "Check My Brain". The vocals on "Grind" channeled the late great original band member Layne Staley. "Them Bones" was slaying the warm night air with Jerry Cantrell shredding on the solo. Then, without missing a beat the band members were all singing their hearts out as they jumped right into "Dam That River", followed by "Hollow". A streak of light beamed off Jerry's pickups on his guitar back to the steamy crowd, during "Your Decision", a beautiful vision to experience in that one special light catching moment. They brought the "Angry Chair" with them for all to see as they performed it, At the end, singer William Duvall rubbed his guitar strings on the speaker for more distortion. Jerry killed it on the guitar for "Man In The Box".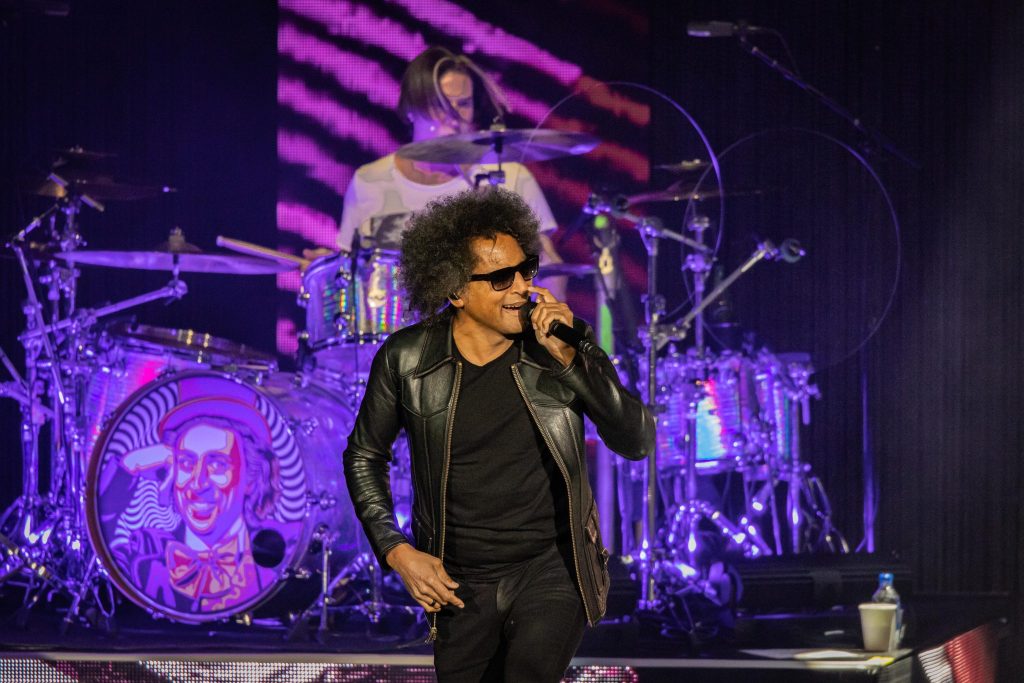 "Nutshell", a personal favorite, was dedicated to bassist's Mike Inez's dad, as he was celebrating his late father's birthday that day. Also, to our beloved, late Layne Staley and Mike Starr, also an original member of the band. The crowd took over on lyrics like "I'd feel better dead". The harmonies were spot on during "No Excuses", Jerry's slide stings like a bee during "Down In A Hole", and Mike's strong bass beat kicks off "Would?". The melancholy solider story "Rooster", inspired by Jerry's father's experiences in Vietnam closed out the late summer night in the high desert with a blast of bluesy heat to conclude a cracklin' evening of great bands and music. The Alice In Chains and Breaking Benjamin with Bush continue this American tour through October. Check the dates and locations near you to see this flaming hot tour.