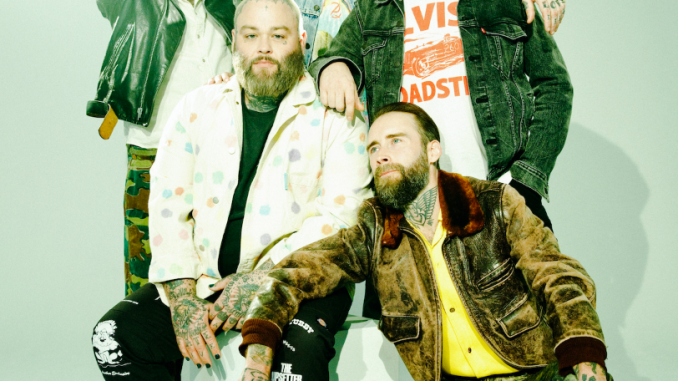 WATCH "SANS SOLEIL" VIDEO, DIRECTED BY MICHAEL MAXXIS, HERE

AOF Celebrate 20 Years Since The Release of Debut Album Alexisonfire With Special First Time, Front-To-Back Performance of Self-Titled at Born & Raised Concert Event on July 3
Today, ALEXISONFIRE released Otherness, their long-anticipated and first full-length album in over 13 years. Stream Otherness here.
Otherness is arguably the band's most cohesive and self-actualized record to date, featuring impassioned anthems with earnest and deeply heartfelt lyrics, and impeccable vocal and musical performances from the iconic 5-piece.
Up next is the visually stunning, dreamlike video for "Sans Soleil," which was shot in New Orleans and directed by longtime collaborator Michael Maxxis, who also directed "The Northern" and "Familiar Drugs."
Watch the video for "Sans Soleil" here.
Guitarist/vocalist Wade MacNeil has described the song as "hanging onto hope during the heaviest times, healing and letting go. Dreaming of a future where all this hurt is behind you."
"'Sans Soleil' is such a beautiful, haunting, mysterious, and uplifting song, and it immediately inspires a certain type of visual," explains Maxxis. "The idea was to make something that was opposite of that first flight of instinct that still possessed the same innate spirit. The process we undertook conceptualizing this video was one of the most unique and rewarding of my career."

Otherness features 10 fresh, original songs, including the explosive first single, "Sweet Dreams Of Otherness," previously released banger "Reverse The Curse," and the hauntingly beautiful "Sans Soleil." The album was produced by AOF and mixed by punk stalwart Jonah Falco (Fucked Up, Chubby and the Gang).
Recently, the band has garnered attention from key hard rock radio in the U.S., including Full Metal Jackie's taste-making, nationally syndicated radio show, as well as support from New York City influencer WSOU.

PRESS PRAISE FOR OTHERNESS:
"Their greatest record to date…"— Rock Sound

"more melody and rocket fuel than ever before…the band conjures the best essence of '90s major-label grunge and textured shoegaze that makes them the coolest guys in the room with the best record collections…" —SPIN

"blistering verses and a melodic chorus, with a rapid pace that never lets up." —Consequence

"slow-burning, head nod-inducing pace, powered by sharp percussion and churning guitars reverberating throughout." —Loudwire

"AOF didn't come back to re-create their early sound. They started experimenting with longer songs and more ambitious arrangements…" —Brooklyn Vegan

"Otherness is arguably the most representatively hard-hitting and confident channelling of Alexisonfire's stage show the band has ever put to tape." —Toronto Star

"Alexisonfire have returned as the band their fans have always loved — and they sound as inspired and invigorated as ever." —Exclaim!
ALEXISONFIRE ARE:
George Pettit — Vocals
Dallas Green — Vocals/Guitar
Wade MacNeil — Guitar/Vocals
Chris Steele — Bass
Jordan Hastings — Drums
OTHERNESS TRACK LISTING:
"Committed to the Con"
"
Sweet Dreams Of Otherness
"
"
Sans Soleil
"
"Conditional Love"
"Blue Spade"
"Dark Night of the Soul"
"Mistaken Information"
"Survivor's Guilt"
"
Reverse the Curse
"
"World Stops Turning"
ALEXISONFIRE ON TOUR:
7/2—St. Catharines, ON ­­— Born & Raised Concert Series
7/3—St. Catharines, ON — Born & Raised Concert Series
7/13—Ottawa, ON — RBC Bluesfest 2022
7/14—Montreal, QC — MTELUS (SOLD OUT)
7/15—Montreal, QC — MTELUS
7/16—Québec, QC — Festival D'éte (With Rage Against the Machine)
7/21 — Boston, MA — Roadrunner
7/22 — Silver Spring, MD — The Fillmore Silver Spring
7/23 — New York, NY — The Rooftop at Pier 17
9/23-25 — Birmingham, AL — Furnace Fest
9/14 — Cleveland, OH — House of Blues
9/15 — Detroit, MI — The Fillmore
10/4 — Los Angeles, CA — Hollywood Palladium
10/5 — San Francisco, CA — The Warfield Theatre
10/6—Sacramento, CA — Aftershock
10/8 — San Diego, CA — SOMA
10/9 — Anaheim, CA — House of Blues
Alexisonfire — alongside City and Colour, Dine Alone Records, and Live Nation Canada — recently announced a must-see, four-day concert event that will take over Montebello Park in the band's beloved hometown of St. Catharines, Ontario from June 30 to July 3. In celebration of their 20th Anniversary, AOF will be giving fans a special treat by performing their self-titled debut album front-to-back for the first time ever live on Sunday, July 3. This will be the only opportunity to catch Alexisonfire perform in Southern Ontario in 2022.
​​
Tickets for the Born & Raised Concert Event are available here. Alexisonfire and City and Colour have partnered with PLUS1 so that $1 from every ticket sold will be donated to the Indspire Building Brighter Futures Scholarship program.
ABOUT ALEXISONFIRE + OTHERNESS:
A continuous thread through the fabric of Alexisonfire is the state of otherness. Otherness drew us all to spaces where a band like this could be formed. We attract the type of individuals that have all felt the sensation of being strange or unique. Perceived or otherwise, otherness has followed us through childhood, adolescence, and into our adult lives. It drives our tastes and proclivities. It bonds us with ourselves and others. And make no mistake, even at our most domestic and mundane moments, we are true outliers.
—Otherness mission statement
For those who need a refresher, AOF released four hugely successful studio albums, all Music Canada Platinum-certified: Alexisonfire (2002); Watch Out (2004); Crisis (2006); and Old Crows/Young Cardinals (2009). Crisis debuted at #1 on the Top 200 Soundscan (Canada), and Old Crows/Young Cardinals debuted at #2, and charted at #9 on the US Billboard Independent Album chart. ​​The number of albums made outside of Alexisonfire by different band members over the years — including City and Colour, Dead Tired, You+Me, Dooms Children, and Billy Talent — could fill several record store bins.
Alexisonfire produced
Otherness
themselves in roughly a week. They kept it a "family affair," working closely with folks who've been with them for years. Writing took place at the Dine Alone Records clubhouse. The album includes organ, keys, and pedal steel from Green's longtime collaborator Matt Kelly. Jill Zimmerman and Darren "Jeter" Magierowski (who is also Steele's cousin) engineered, at Jukasa Recording Studios.
The idea of the strength of diversity and the power of the outsider expressed in the album's mission statement surfaced early in the process.

AOF stayed at the studio and fully lived in the record. "Because George, Dallas, and I all sing, we wrote our own lyrics in the past. This time, we all wrote for each other," MacNeil explains. "We shied away from that before. If I wrote something very personal, maybe George would've felt uncomfortable singing it. This time around, that didn't even enter our minds. We worked to combine our voices rather than just pick our individual spots. Whatever suited the song the best."
As Revolver noted in 2019, "It's hard to overstate the influence Alexisonfire had in post-hardcore through the mid-2000s, their combination of singing and screaming setting the blueprint for many artists to come." Five guys playing aggressive rock (with no less than three of them singing and screaming) grew to a hockey-arena headlining phenomenon while pushing and pulling between spirited guitar leads, melodic might, and emotional weight.
"As much as we love playing the old songs, we don't want to be a nostalgia act. The only reason to come back is if we feel we still have something to say," Pettit insists. "We spent so much time on the road thinking that if we stopped, people would lose interest. But when we went away, it only got bigger. We all carved new paths for ourselves, so coming back to Alexisonfire is a purely enjoyable creative venture. Something special happens when we get in a room together."

"The biggest difference is the space we are all in," adds MacNeil. "We were all really thrilled to make a record, and it was such a respite from what was going on in the world. It felt like life could be beautiful. We were supportive of one another. Everyone was in such a good mood. It was such a treat to be able to do it again."