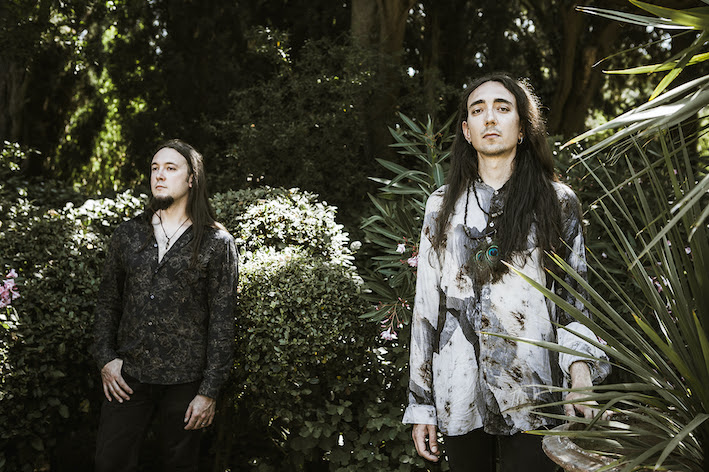 ALCEST'S NEW ALBUM, "SPIRITUAL INSTINCT," OUT NOW!
BAND UNVEILS STUDIO DOCUMENTARY "LA LUMIERE AUTANT QUE L'OMBRE"
"Not only is it a serious contender for Album of the Year, it also cements Alcest as one of the most vital and interesting bands in the world of metal today." – EchoesAndDust.com

"Everything fans could want—and everything that makes blackgaze stand out—is here, and Alcest have undoubtedly crafted one of their most unified and significant sequences to date" – PopMatters.com

"Spiritual Instinct sets no limits for itself, and seamlessly weaves together the band's poppiest music and their heaviest…Their most essential album since Écailles de Lune" – BrooklynVegan.com

"It's striking, gorgeous, impervious to genre-cliches and unfathomably addictive. It also has a clarity which will last far into the future." – EverythingIsNoise.net

"Spiritual Instinct…sees Alcest at their peak songwriting, performance, and production" – HeavyBlogIsHeavy.com

"Spiritual Instinct is Alcest at their most engaging, and is quite possibly their strongest, most complete record" – HeavyMusicHQ.com

"Alcest's sixth album is one of the finest of their career, one which captures and crystallises the quintessence of their sound in all its rare and unique wonder, while also providing some much needed catharsis for both its creators and its audience alike." – NoCleanSinging.com
Today, ALCEST release their 6th studio album and Nuclear Blast debut »Spiritual Instinct« upon the world. To celebrate, the band has unveiled a studio documentary titled'La lumière autant que l'ombre,' accompanied with the acoustic instrumental version of their new track 'Protection,' which was recorded by Neige and can also be found exclusively as a bonus track on select versions of the album. Watch the video here: https://www.youtube.com/watch?v=g3xF4YZeV6k
Frontman Neige states, "We are happy to release 'La lumière autant que l'ombre,' the making-of »Spiritual Instinct,« filmed by the talented William Lacalmontie. William spent a lot of time with Benoît Roux and the band at Drudenhaus Studio in order to capture our moods, as well as glimpses from the long journey that was this recording process. Hope you guys will enjoy it."
Order »Spiritual Instinct« now: https://nblast.de/AlcestSpiritInstinct
Listen to the band's new tracks in the NB New Releases Playlists:
http://nblast.de/SpotifyNewReleases / http://nblast.de/AppleMusicNewReleases
More on »Spiritual Instinct«:
'Protection' OFFICIAL MUSIC VIDEO: https://www.youtube.com/watch?v=Tn7wvu8R4Wk
'Sapphire' OFFICIAL MUSIC VIDEO: https://www.youtube.com/watch?v=69fnUZhV8SI
Album Trailer #1 – Writing & Recording »Spiritual Instinct«:
https://www.youtube.com/watch?v=OZOZzjMMYd8
Recorded at French Drudenhaus Studio with Benoît Roux and written in bursts both during and after a prolonged period of touring in support of 2016's hugely successful »Kodama,« the new and very cathartic album is leading the blackgaze pioneers into dark soundscapes. The artwork was once again designed by Førtifem.
To round off 2019, ALCEST will be playing a string of festival dates, before embarking on their recently announced, 28-date headline tour in support of »Spiritual Instinct« in February/March 2020, with support coming from BIRDS IN ROW and KÆLAN MIKLA. In addition, the first festival appearances for next year have already been confirmed. All dates can be found below!
—–
ALCEST live:
25.10. F Paris – Gibert Joseph (Acoustic Set)
26.10. F Strasbourg – La Laiterie *SOLD OUT*
02.11. UK Leeds – Damnation Festival *SOLD OUT*
16.11. D Neunkirchen – Gloomaar Festival
06.12. E Madrid – Madrid is the Dark
07.12. P Lisbon – Under the Doom Festival
13.12. NL Eindhoven – Metal Meeting
14.12. UK London – Beyond The Past
»Spiritual Instinct« – European Tour 2020
w/ BIRDS IN ROW, KÆLAN MIKLA
06.02. F Audincourt – Le Moloco
07.02. F Tourcoing – Le Grand Mix
08.02. F Lyon – Ninkasi Kao
09.02. D Munich – Technikum
10.02. D Cologne – Kantine
11.02. D Hamburg – Gruenspan
12.02. D Leipzig – Täubchenthal
13.02. D Berlin – Heimathafen
14.02. D Hanover – Capitol
15.02. DK Copenhagen – Pumpehuset
16.02. S Stockholm – Fryshuset Klubben
18.02. FIN Helsinki – Tavastia
19.02. LV Riga – Melnā Piektdiena
20.02. PL Warsaw – Klub Proxima
21.02. PL Krakow – Klub Kwadrat
22.02. A Vienna – Szene
23.02. H Budapest – A38
24.02. RO Cluj-Napoca – Form Space
25.02. RO Bucharest – Quantic Club
26.02. BG Sofia – Mixtape 5
28.02. SLO Ljubljana – Kino Šiška
29.02. I Parma – Campus Industry Music
01.03. CH Lucerne – Schüür
02.03. D Stuttgart – Im Wizemann
03.03. B Brussels – Orangerie @ Botanique
05.03. UK Manchester – Gorilla
06.03. UK Bristol – The Fleece
07.03. F Paris – La Machine du Moulin Rouge
29. – 31.05. D Gelsenkirchen – Rock Hard Festival
06. – 08.08. D Schlotheim – Party.San Open Air
—
ALCEST is:
Neige | vocals, guitars, bass, synths
Winterhalter | drums
More info:
www.alcest-music.com
www.facebook.com/alcest.official
www.instagram.com/alcestofficial
www.twitter.com/alcestofficial
www.nuclearblast.de/alcest