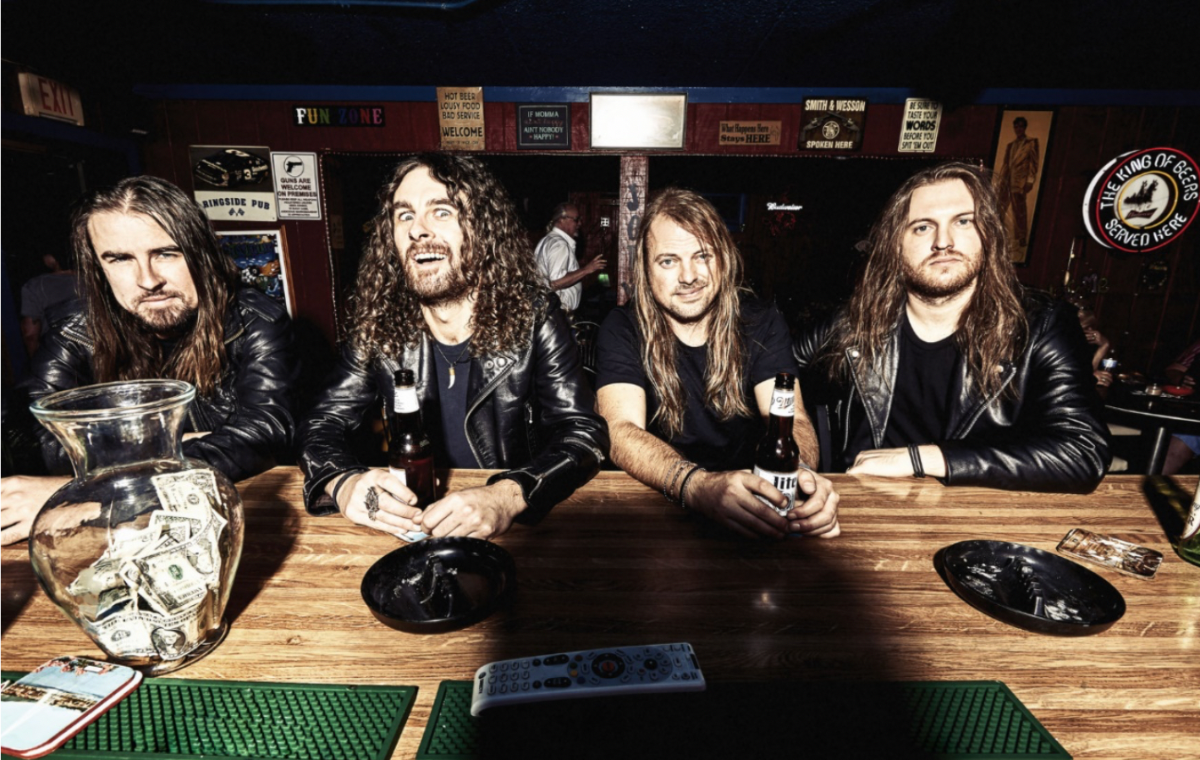 BRAND NEW STUDIO ALBUM BONESHAKER OUT OCTOBER 25 VIA SPINEFARM RECORDS
Airbourne
have released "
Backseat Boogie
," the second single from their forthcoming studio album
Boneshaker
. Listen
here
.
Airbourne
frontman
Joel
O'Keeffe
says,
"The riff, this is one of those ones where
Cobb
[producer] walked out and said, 'What are you playing there?' and I was, 'Aah, I'm just playing this riff, it's this riff I had in Australia, it's got a bit of a vibe, I'm not sure.' He goes, 'Aw man, we gotta do that one' and he got behind the drums and picked up [drummer] Ryan's drumsticks and said, 'Oh man, how does he play with these things, these things are baseball bats,' and it was just really funny, and Ryan jumped on the kit, and we tracked it right then and there."
Drummer
Ryan O'Keeffe
adds, "It all happened really fast. The band's lucky to have had a lot of time rehearsing together and playing together but we tracked songs before we even thought we tracked them. He'd say give it another go if you want, but the one you just did, and here's the first one you did, and that's the vibe."
Boneshaker,
the band's fifth studio album to date, will be released on
October 25
via
Spinefarm Records
.
Pre-orders are now live; special bundle options including t-shirts, hoodies, enamel badge & poster are available
here
.
BONESHAKER
TRACK LISTING:
1. "Boneshaker"
2. "Burnout The Nitro"
3. "This Is Our City"
4. "Sex to Go"
5. "Backseat Boogie"
6. "Blood In The Water"
7. "She Gives Me Hell"
8. "Switchblade Angel"
9. "Weapon of War"
10. "Rock 'N' Roll For Life"
As always, you can find
Airbourne
on the road. They will be crisscrossing the planet, in true
Airbourne
fashion, until 2022. Watch this space for U.S. dates.
AIRBOURNE ARE:
Joel O'Keeffe — vocals/lead guitar
Matthew Harrison — guitar
Justin Street — bass
Ryan O'Keeffe — drums
ABOUT AIRBOURNE:
Airbourne
are an Australian hard rock band formed in Warrnambool in 2003 by brothers Joel O'Keeffe on lead vocals and lead guitar, and Ryan O'Keeffe on drums. The lineup was completed with Justin Street on bass guitar and backing vocals, and David Roads, on rhythm guitar and backing vocals. In 2017, Roads amicably stepped down, with Matthew Harrison stepping up as his replacement.
The band's debut album, Runnin' Wild, was released in June 2007, certified Silver in the UK, and charted in the top 30 of the ARIA Albums chart, appeared on the US Billboard 200; UK, France, Austria, and Switzerland Albums chart.
Their second album, No Guts. No Glory., came out in March 2010, reached top 20 in Australia, Austria, New Zealand, Finland, Greece, Sweden, and Switzerland, as well as going in at #31 in the UK and Top 100 of the US Billboard 200. The third studio album, Black Dog Barking, was released in May 2013, and peaked at #17 in Australia and came in top 20 in Austria, Finland, Germany, New Zealand, Sweden, and Switzerland, as well as top 100 in the UK, Spain, Norway, and France. In October 2016, Airbourne released their fourth album, Breakin' Outta Hell, which peaked top 5 in Austria, Germany, and Switzerland; #9 in the UK; and top 20 in Australia. The band has played an estimated 1000+ shows since the formation of the band, including multiple appearances at some of the biggest festivals in the world, including Wacken, Download, Hellfest, Rock am Ring, and Rock im Park.