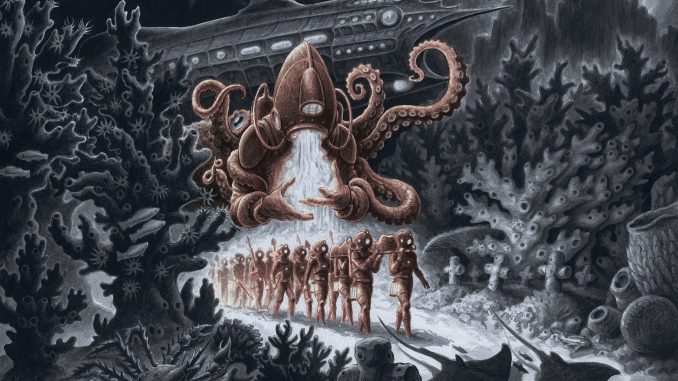 Ahab, the admirals of nautical doom metal have returned after an eight year studio album absence. The originators of an entire genre will release The Coral Tombs via Napalm Records in January 2023. It will be the band's fifth studio album and follows The Boats of the Glenn Carrig vinyl adventure from 2015.
Even though there's been an eight year absence of studio music, Ahab did release Live Prey in 2020. The material on the live album comes from The Call of the Wretched Sea, the band's highly acclaimed 2006 debut.
Ahab continues with a nautical theme on The Coral Tombs. This time though, the band's inspiration comes from Jules Verne's maritime classic 20000 Leagues Under the Sea.
The release features seven deeply inspired tracks from the novel. Three of those tracks clock in at ten plus minutes with one at 12:02. In all, Ahab created just over 58 minutes of a pure nautical masterpiece.
The album opener, "Prof. Arronax" immediately gives the listener something that's not to be expected from the Ahab camp. That surprise is brutal blast beats with the heaviness of Ahab. Add to that, clean vocals to the opener and one quickly realizes this Ahab release is different. Yet, the clean vocals are not just limited to "Prof. Arronax," there are others.
Lyrically, "Prof. Arronax" instills a sense of panic and anxiety of the deep blue waters. The panic is brief though as the band makes their way into the epic, Ahab signature sound.
As for the relationship between Arronax and the novel, the Professor is the protagonist and narrator of the novel. He's a very curious individual about the world and one of the more adaptable characters in the book.
As Ahab takes their listener on a heavy journey into the deepest ocean waters, a monstrous creation begins to emerge. This monster is not a giant squid like creature, it's The Coral Tombs album that's monstrous.
Tracks like "Colossus of the Liquid Graves," "Mobilis in Mobili," "The Seas as a Desert" to name a few are quite grand. All seven songs on The Coral Tombs are extremely impressive.
Upping the album game, Ahab enlists the talents of Ultra's Chris Nohr as well as Esoteric's Greg Chandler.
There's so many strong elements from start to finish throughout The Coral Tombs. The album can be soundtrack worthy and may just be Ahab's magnum opus. That in itself is impressive as all Ahab releases present the highest of standards.
Ahab may have set the standard with The Coral Tombs for metal releases of varying genres seeing the light of the day in 2023.
The Coral Tombs will surface from the ocean depths on January 13, 2023 through Napalm Records. The release is available in various formats such as vinyl, colored vinyl, CD, cassette and bundles.