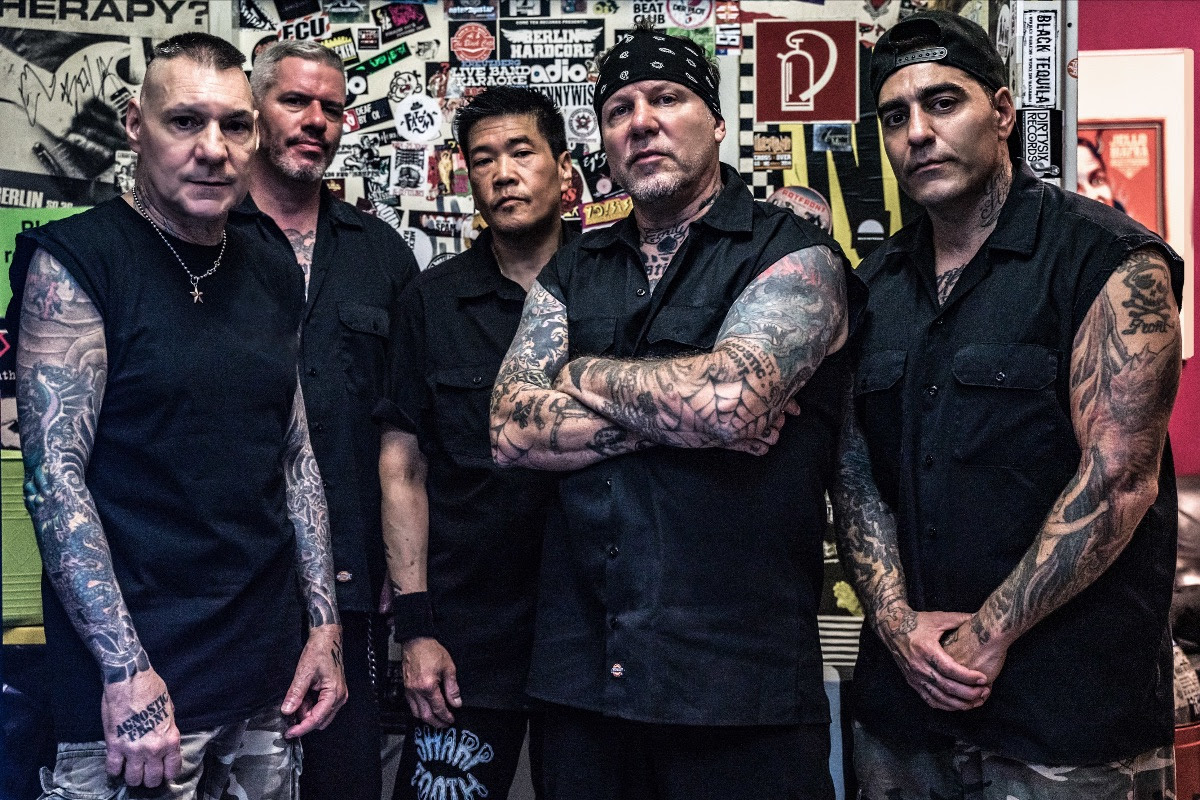 New York hardcore pioneers AGNOSTIC FRONT recently released their twelfth studio album Get Loud! through Nuclear Blast and are currently touring in support the release. Tomorrow the tour rolls into London, where the band will perform a headline set at the legendary Underworld in Camden. The quintet are excited to announce that they have teamed up with Hotel Radio to live stream their set from the show so fans from across the world can tune in and catch the godfathers of hardcore doing what they do best! Tune in at 1.45pm PST | 9.45pm GMT | 10.45pm CET here: facebook.com/hotelradiolive/posts/2191516517619573

Need a reminder for the show on Facebook? Click here: bit.ly/374zYDB
Catch AGNOSTIC FRONT live:

US DATES
Victim In Pain – 35th Anniversary Tour w/ SLAPSHOT
12/02/2019 The Canal Club – Richmond, VA
12/04/2019 The Pour House Music Hall – Raleigh, NC
12/05/2019 The End – Nashville, TN
12/06/2019 The Masquerade (Purgatory) – Atlanta, GA
12/07/2019 Jack Rabbits – Jacksonville, FL
12/08/2019 The Atlantic – Gainesville, FL
12/09/2019 New Brookland Tavern – West Columbia, SC
12/10/2019 Reggies 42nd Street Tavern – Wilmington, NC

NYC Tour 2019
12/11/2019 Bowery Electric – New York, NY (w/ EAT LEAD) *SOLD OUT* ^
12/12/2019 PUG's – Staten Island, NY (w/ ENRAGE) *SOLD OUT* ^
12/13/2019 Blackthorn 51 – Queens, NY (w/ GILLIGANS'S REVENGE) *SOLD OUT* ^
12/14/2019 Wells Fargo Center – Philadelphia, PA (w/ MISFITS, DROPKICK MURPHYS)*
12/15/2019 Kingsland – Brooklyn, NY (w/ DEAD BLOW HAMMER) *SOLD OUT* ^
^ W. SICK OF IT ALL
* W. The OrIginal MISFITS

2020 Festivals
05/01/2020 Epicenter -Charlotte, NC

WORLDWIDE DATES:
Victim In Pain – 35th Anniversary Tour 2019 w/ THE TAKE (*)
19.11. UK Birmingham – Mama Roux's*
20.11. UK London – The Underworld Camden*
21.11. P Lisbon – RCA Club
22.11. B Sint-Niklaas – De Casino*
23.11. NL Eindhoven – Dynamo*

Persistence Tour 2020
w/ GORILLA BISCUITS, STREET DOGS, H2O, WISDOM IN CHAINS,
BILLYBIO, CUTTHROAT, THIS MEANS WAR
15.01. D Hamburg – Große Freiheit 36
16.01. D Wiesbaden – Schlachthof
17.01. PL Wroclaw – Centrum Koncertowe A2
18.01. D Dresden – Eventwerk
19.01. B Brussels – Ancienne Belgique
20.01. CH Zurich – X-TRA
21.01. D Munich – Backstage (Werk)
22.01. CZ Brno – Sono Centrum
23.01. D Berlin – Astra Kulturhaus
24.01. D Würzburg – Posthalle
25.01. D Oberhausen – Turbinenhalle
26.01. UK London – O2 Forum Kentish Town

Tickets are now available to purchase at www.bandsintown.com/agnosticfront
GET LOUD! is compiled of 14 tracks that are nothing short of classic, home grown, New York Hardcore, but still includes some thrashy and punky variety. The album was produced by Roger Miret while long time friend Paul Miner handled the recording, mixing and mastering of the record at Buzzbomb Studio in Orange, CA. For the artwork, the band returned to 1986's Cause For Alarm​ artist Sean Taggart. It features the iconic CFA​ characters combined with a modern freshness.

GET LOUD! is available in the following formats:
CD Digi
Vinyl

Black Vinyl
Picture Vinyl
White ( Limited to 300)
Blue Vinyl ( Limited to 300)
Gold Vinyl ( Limited to 300)
Green Vinyl (Limited 200)
Red Vinyl

Red Cassette
T-Shirt
Long Sleeve Bundle

Includes Long Sleeve Shirt & CD
Order GET LOUD! in the format of your choice here: www.nuclearblast.com/agnosticfront-getloud
GET LOUD! track list:
Spray Painted Walls
Anti Social
Get Loud!
Conquer And Divide
I Remember
Dead Silence
AF Stomp
Urban Decay
Snitches Get Stitches
Isolated
In My Blood
Attention
Pull The Trigger
Devastated
2017 marks the premiere of the highly acclaimed documentary about the band, The Godfathers Of Hardcore. This past fall saw the release of the documentary on Showtime.
Roger Miret and Vinnie Stigma are lynchpins of New York Hardcore (NYHC), and their band AGNOSTIC FRONT played a key role in defining, shaping and establishing the sound and cultural code of conduct for the still-thriving movement. Unlike the dozens of bands that have come and gone, leaving their indelible footprint along the way, AGNOSTIC FRONT are still going strong, 11 studio albums into their 30-plus year career.
In a landscape of increasing apathy and complacency, the messages AGNOSTIC FRONT presents are as relevant today as they were in the '80s when the band members were impoverished, scrappy and ambitious, often fighting for their very survival as well as the perseverance of their volatile but highly inspirational band.
Roger and Vinnie remain the very embodiment of hardcore, representing endurance, perseverance, brotherhood, strength against oppression and the will to keep going, obstacles be damned. AGNOSTIC FRONT exist on a level all their own. . . a level of their own creation.