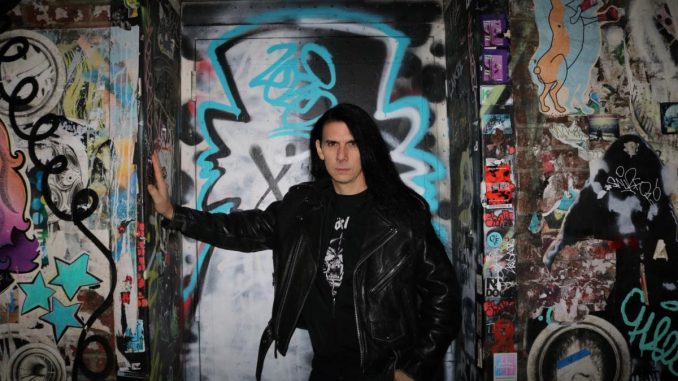 Song and Video – "City Kids"
Watch the Video for AGGROS' New Single "City Kids" Today via
Metal Injection
Parris Mayhew's new band AGGROS are back with another epic, crushing hardcore/metal song and video called, "City Kids", the highly anticipated follow up to their debut song and video "Chaos Magic".
"City Kids" is a landscape of a song, constructed from a conspiracy of Parris' diverse musical influences. For this song those were primarily BLACK FLAG and RUSH. Parris describes the way "City Kids" came about, "Musicians collect musical memories over the years, memories of what music can be, and they throw those ideas in a toolbox of memory. In part one of the song, I drew from my memory of BLACK FLAG bassist Chuck Dukowski, "the Joe Fraizer" of bass players, for the thunderous bass onslaught. On the second half, titled "Ghosts of New York," I employed the surgical, three finger, right hand style and finesse inspired by Geddy Lee, a guide that has colored my playing since the beginnings of my high school band, the CRO-MAGS. The lasting imprint on me from both these bands, RUSH and BLACK FLAG and others… forged this music, but for completely different reasons. And when I found myself again meshing these polar opposite influences into one song, it just felt right."
Parris continues, "For the video, I wanted to pick up where "Chaos Magic" left off visually, as if it were the same endless, sodium vapor light- filled night, and my tour of the New York of my youth. The colors, the haunting memories carved out of the darkness, the streets, and the night. But I also wanted to show how NYC is a 24-hour city and even a seemingly daytime spot like a skatepark has another life after dark, a nightshift. And of course, skateboarding and graffiti have always been a part of NYC life, so the location of the graffiti-washed LES skatepark was perfect. I didn't want "City Kids" to be a skateboarding video per se, so I decided to shoot the skateboarding in a more cinematic way as opposed to just flashy Tik Tok/Instagram tricks, I wanted to show skateboarding as part of life, how we navigate the streets, so I included shot sequences with my nephew John Mayhew, who plays the role as the central character, skateboarding. It's a slice of life, a peek into our world."
Being that this song is an instrumental, the title "City Kids" is more of a poetic statement illustrated by the imagery in the video, but the premise is that "City Kids" learn lessons on the street that can't be conveyed, a life's experience is the only way to get that education, and it never goes away. "City Kids" night crawl, looking for 'something to do,' they find doors into an adult life, they find bars, temptation. Feral children run wild and navigate this adult world and it forges a different kind of person. NYC is continuous, haunted by old ghosts who are replaced by every generation of new "City Kids".
Peppered throughout the video is something specially created just for "City Kids", three custom-made NFTs. We collaborated with NFTY Skateboards' Oli Kentner & Paul Muresan at
www.nfty-skateboards.com
to make three AGGROS skateboard NFTs which are showcased in LED advert panels throughout the video and were projected on buildings in NYC by SCENESTER PROJECTS previewing a line of AGGROS skateboards to come, using original artwork from UK artist Andrew Sawyers and NYHC's #1 artist Sean Taggart. The three NFTs will be available for auction on OpenSea and proceeds from the sale will benefit The Skatepark Project, a non-profit organization founded by Tony Hawk, working to increase access to outdoor recreation and free play in underserved communities through safe and inclusive skateparks.
Parris continues, "I wrote "City Kids" in the tradition of RUSH, METALLICA and much of ZEPPELIN, not concerning myself with contemporary expectations for song lengths, ie: "the single," and letting the song be as long as it needs to be to tell its story."
Parris comments, "I want to let the band develop one song at a time revealing additions and changes as they happen, and every song is an invitation to musicians who will potentially fill the ranks to take these songs on the road."
AGGROS will continue to release one song at a time, with an accompanying music video for every song, and these songs will appear on the upcoming EP "Rise of the AGGROS" to be released in 2022.
AGGROS online: