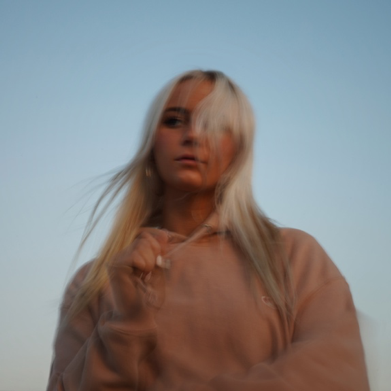 After 70 million-plus combined views and streams and the endorsement of everyone from Earmilk to
Magnetic Magazine
, Colorado-born singer, songwriter, and producer
Bri Tolani
releases her first original single entitled "
Hazy"
today via
Creative Messaging House
and distributed by
STEM
.
She has debuted a riveting and timely mental health-centric music video where she performs to a support group. The visual unfolds with the narrative of a short film and draws on powerful and, at times, chilling statements from the group members as the open up about their own anxieties or "Thunderstorms."
Watch it here.
Bri notably wrote, produced, engineered, and recorded the track herself. It hinges on fluttery guitar riffs and a nostalgia-inducing melody paired with angelic vocals. This stark contrast of a beautiful melody and bold lyrics culminates on a hypnotic that's hook impossible to shake: "Everything is just so damn hazy."

As part of the rollout, she launches the #MyThunderstorm campaign on November 25. Fans from around the world recorded videos detailing their own "Thunderstorm," and she edited them into one powerful clip, sharing real mental health stories from real people.
Everything is just so damn hazy in 2019…
Get "Hazy" on Apple Music, Spotify, Audiomack, and more.
ABOUT BRI TOLANI:
Bri Tolani pulls harmony out of emotional extremes. Within a year, the Denver-born and Los Angeles-based singer, songwriter, and multi-instrumentalist quietly generated 30 million total streams and 40 million views and received acclaim from Earmilk, Dancing Astronaut, Magnetic Magazine, and YourEDM who described her as "sure to be stuck in your head."

Inspired by everyone from Linkin Park to Taylor Swift, Bri Tolani wrote songs to memorize her homework throughout middle school before penning a proper tune in the aftermath of a freshman year heartbreak. While attending the prestigious Bandier Program at Syracuse University, she lent her voice to a string of popular collaborations. "Better" [feat. Bri Tolani] by AJ Salvatore & Fluencee landed in the Top 25 of the Spotify US Viral Charts and Global Viral Charts. Meanwhile, her voice powered "Why Do I?" [10 million Spotify streams] with Unknown Brain, "Because of You" [6 million Spotify streams] with Steve Void and Big Z, and "Words" [2 million Spotify streams] with Steve Void and BEAUZ, to name a few.

However, the single "Hazy" uncovers the heart of her singular style as she details experiences with dissociation and mental health struggles within the framework of guitar-driven alternative pop.