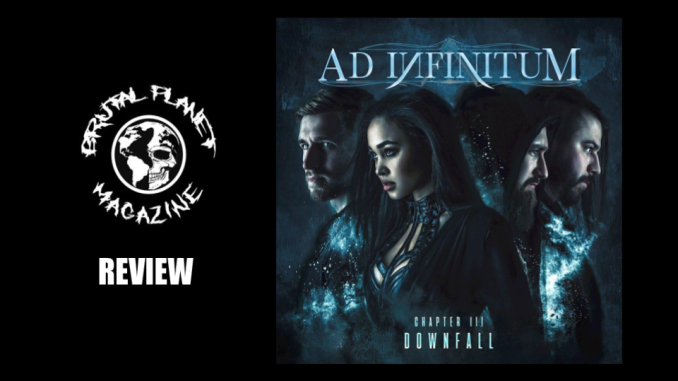 I think History is incredible. Even if you disagree with me, you can't deny how interesting Ancient Egypt is. The subject is full of true stories as well as those steeped in myth. So what happens when true history and mythology become intertwined? Mastering storytelling through music, the Swiss band, Ad Infinitum (Melissa Bonny-vocals, Adrian Thessenvitz-guitars, Korbinian Benedict-bass, and Niklas Müller-drums) gives metal fans another incredible concept album called "Chapter III: Downfall." This incredible work of art will be released on March 31 through Napalm Records.
Their first full-length album, "Chapter I: Monarchy," was a concept album written about the life of the French king, Louis XIV. Their sophomore album, "Chapter II: Legacy" was a homage to the 15th-century Romanian ruler, Vlad the Impaler. Now, with a powerful identity in symphonic metal and a massive fanbase, the band is highlighting Cleopatra and Egyptian history. From the opening riff to the final note, "Chapter III: Downfall" will not only please your ears but ignite a passion for the past more effectively than your high-school history teacher.
The album opens with "Eternal Rains." As I think of the hot, never-ending deserts of Egypt, one can imagine how the ancients would look up to the skies for their salvation to come in the form of rain. This song seems to be about the hope we all have for something greater than us to pour down and bless us. Vocalist Melissa Bonny sings, "Fade away, away I'll rise above the waves of this insanity. Bring back the shimmering light, the might of a miracle. Before the shadows arise, I will embrace eternal rains." This is a great intro to the album and reassures any doubters that the band is staying true to their familiar sound.

The second and third songs, "Upside Down," and "Seth," have both been released as singles and received much praise. The former-mentioned song is very catchy and you'll find yourself singing along before it ends. Melissa's strong vocal range is evident as she sings and screams. Concerning the song, "Seth," the band says, "A song about Seth, the god of chaos and destruction, about jealousy, ambition, betrayal, treason, and illusions. And eventually about justice and resolution." The official music video was released in mid-January and has surpassed over a quarter million views in less than two months! If you haven't watched it yet, it features sultry dancing and fire and it's definitely worth checking out!
You'll have to listen to the album to get the full effect of how amazing it is- both musically and lyrically. "From the Ashes" and "Legends" are hard-hitting tracks with killer riffs and thundering drums.
"Somewhere Better" and "Under the Burning Skies" show off the beauty of Melissa's voice while "The Underworld" and "Ravenous" remind you that she can conjure up monstrous growls. We all know Adrian Theßenvitz can create masterful solos and my favorites are on "The Underworld" and "New Dawn." While they are all great, my favorite song on the album is probably "Architect of Paradise." I typically like the heavier side of music and this song features what I would call a "symphonic metal breakdown." Lyrically, the song is great too. "Call out my name I'll be your hero. Your moonlight, your sorrow. A scar left on your heart forever. Always been dancing in the fire. Igniting desire. Architect of paradise."
I thoroughly enjoyed Ad Infinitum's first two albums and this latest one will no doubt rank them as one of the best current symphonic metal bands. By writing powerful concept albums surrounding people and cultures of the past, Ad Infinitum is proving they know how to make their own mark in history. "Chapter III: Downfall" is fantastic.