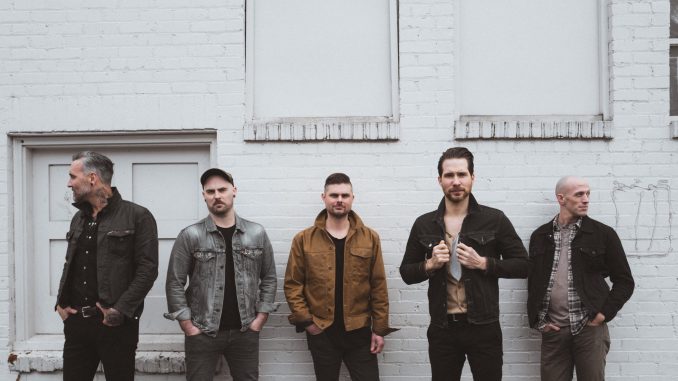 NEW VERSION FEATURES THREE NEW SONGS
BAND TO APPEAR AT WHEN WE WERE YOUNG FESTIVAL
ACCEPTANCE — Jason Vena (vocals), Christian McAlhaney (guitar), Kaylan Cloyd (guitar), Ryan Zwiefelhofer (bass), and Garrett Lunceford (drums) — are releasing the deluxe version of their latest album Wild, Free today, October 19, via Tooth & Nail Records.
The deluxe features three new songs: "Lonely," "Explanations and Excuses," and "Don't Look Back."
Get it here.
"'Lonely' is a song that was created in between the Colliding by Design and Wild, Free sessions," the band shares. "It's a commentary on how isolated society has become over the last decade. The urgency of the message is brought forth with an emotional introductory vocal countered by a single guitar that highlights the widening between our past and present."
Acceptance are playing the sold-out When We Were Young Festival in Las Vegas this coming weekend. The will also play the Anberlin anniversary show at The Observatory in Santa Ana, CA on October 24.
The story of Acceptance was too strong to remain confined to pop-rock lore forever. 15 years on from their beloved debut and the well-received 2017 comeback album that followed, the band returned with Wild, Free. An epic collection colored with dynamic atmosphere and vibe, the band's third record combines sonic storytelling akin to The Killers and Bruce Springsteen, the heartland neo-psych rock of The War On Drugs, the '80s synthwave/yacht rock flourish of Colliding by Design, and the Jimmy Eat World-flavored power-pop of scene landmark Phantoms.
Heralded as a "Next Big Thing" by SPIN and lavished with praise by the likes of MTV, the Seattle based band was poised for greatness in the mid-aughts. Audiences were wowed by the band's emotional delivery and catchy heaviness, at shows with bands like Fall Out Boy and Yellowcard. Phantoms, produced by Aaron Sprinkle (Anberlin, Demon Hunter, MxPx) and mixed by J.R. McNeely (Underoath, Emery, Icon For Hire), produced a Top 25 Modern Rock radio hit and debuted at No. 3 on Billboard's Heatseekers chart, but as music industry frustrations mounted and adult life responsibilities beckoned, the band decided to call it quits, and moved on to other things.
But in the months and years after the band's premature dissolution, Phantoms organically found an audience around the world, as people connected to its sonic weight and themes. Young musicians who discovered Phantoms formed bands like Pierce The Veil and Sleeping With Sirens. Acceptance returned with the aptly-titled Colliding by Design in 2017 and never really stopped writing. Wild, Free was recorded in fits and starts, with both Sprinkle and McNeely returning (along with J. Hall, who mixed two tracks). The process allowed for bigger creative ambition and a broader focus, merging the band's classic anthem-making skills with an incredibly ambitious new direction. The power-pop and emotive aggression familiar to fans persists within the sound, but with a greater emphasis on raw, organic feel and less rigid song structure, resulting in songs that reward repeated listens.