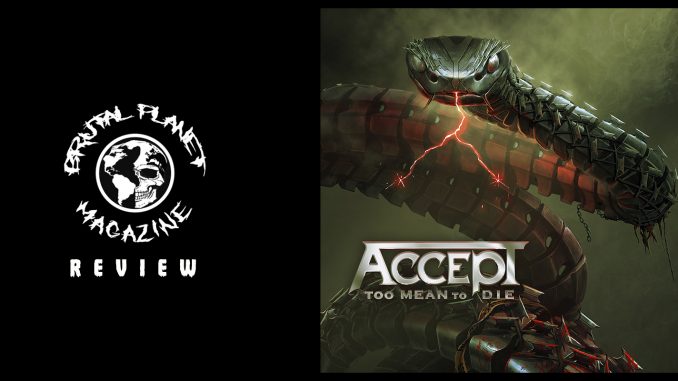 2021 is starting off with a bang, and German metal veterans Accept are providing that bang with their release Too Mean to Die. The album follows up 2017's The Rise of Chaos. Accept has been providing the world with consistently outstanding albums since 1979's self-titled album. The great thing about Accept is no matter the line up the formula is consistent. Heavy, melodic music combined with fantastic vocals. No matter if it is Udo Dirkschneider, David L. Reece, or current longtime vocalist Mark Tornillo, vocals play a vital centerpiece in the band's success.
Too Mean to Die begins with "Zombie Apocalypse." The song's opening has a bit of a "Big Balls" by AC/DC sound to it but then immediately rises into what we know as Accept. It is a perfect song to suck you into the album. The title track is up next, and it is all speed from the very beginning. With a title like "Too Mean To Die," how can you go wrong? Overnight Sensation follows, and the intro guitar riff stands out along with the solo mid-song. This mid-tempo song is one of my favorites on the album.
"No Ones Master" continues, followed by another of my favorites, "The Undertaker." It starts with a slow acoustic intro. The song then continues with ominous lyrics:
"The undertaker is a busy man
For he and death go hand in hand
He works all day and digs all night
He loves the dead; they are his life."
Up next is probably the best title for a song ever written. "Sucks to be You" is a song we can all assign to someone in our life at one point or another. Lyrically, the song fulfills that every notion we have appointed to said person. From an empowerment aspect, this song kicks ass. "Symphony of Pain" has another excellent guitar intro as well as riffs throughout the song. It is a full metal assault.
Things slow down for "The Best Is Yet To Come." The song is slow, but again lyrically, this song has some catchy lyrics. Too Mean to Die comes to an end with the socially relevant song called "How Do We Sleep."
2021 needed Too Mean to Die early on to kick our asses and remind us that metal is still alive and Accept is here to deliver us into the next year of the roaring twenties kicking and screaming. You can pick up Too Mean to Die by Accept January 15, 2021, via Nuclear Blast Records.