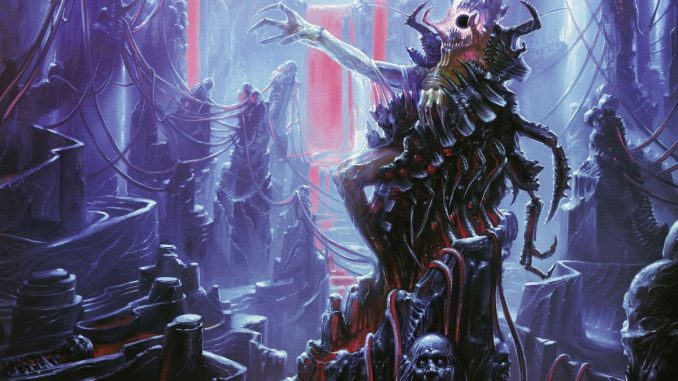 Los Angeles death metal titans ABYSMAL DAWN will be embarking on an extensive North American tour as direct support for OBSCURA at the start of next year! The trek will kick off in San Diego, CA on February 3 and will conclude on March 23 in Fresno, CA! Tickets are on sale NOW!
ABYSMAL DAWN will be supporting 2020's critically-acclaimed album, 'Phylogenesis.' The album was named one of the best albums of 2020 by Metal Injection, Metal Insider (#7), Teeth of the Divine, Cursed Zine, and more! In addition, drummer James Coppolino is listed as one of Sick Drummer Magazine's favorite drummers of 2020, and the band's song "Soul Sick Nation" was among Loudwire's "66 Best Metal Songs of 2020."
'Phylogenesis'  can be ordered and streamed HERE.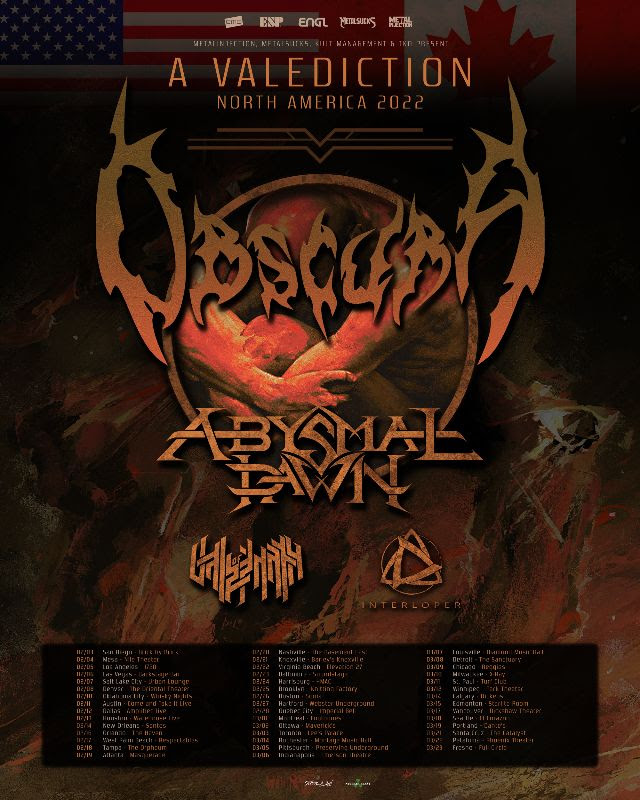 ABYSMAL DAWN Tour Dates
A Valediction North America 2022
(w/ OBSCURA, VALE OF PNATH, + INTERLOPER)
02/03: San Diego, CA @ Brick by Brick [TICKETS]
02/04: Mesa, AZ @ Nile Theater [TICKETS]
02/05: Los Angeles, CA @ 1720 [TICKETS] **Hometown Show**
02/06: Las Vegas, NV @ Backstage Bar [TICKETS]
02/07: Salt Lake City, UT @ Urban Lounge [TICKETS]
02/08: Denver, CO @ The Oriental Theater [TICKETS]
02/10: Oklahoma City, OK @ Whisky Nights [TICKETS]
02/11: Austin, TX @ Come and Take it Live [TICKETS]
02/12: Dallas, TX @ Amplified live [TICKETS]
02/13: Houston, TX @ Warehouse Live [TICKETS]
02/14: New Orleans, LA @ Santos [TICKETS]
02/16: Orlando, FL @ The Haven [TICKETS]
02/17: West Palm Beach, FL @ Respectable Street [TICKETS]
02/18: Tampa, FL @ The Orpheum [TICKETS]
02/19: Atlanta, GA @ Masquerade (Hell) [TICKETS]
02/20: Nashville, TN @ The Basement East [TICKETS]
02/21: Knoxville, TN @ Barley's Knoxville [TICKETS]
02/22: Virginia Beach, VA @ Elevation 27 [TICKETS]
02/23: Baltimore, MD @ Soundstage [TICKETS]
02/24: Harrisburg, PA @ HMAC [TICKETS]
02/25: Brooklyn, NY @ Knitting Factory [TICKETS]
02/26: Boston, MA @ Sonia [TICKETS]
02/27: Hartford, CT @ Webster Underground [TICKETS]
02/28: Quebec City, QB @ Imperial Bell [TICKETS]
03/01: Montreal, QB @ Les Foufounes Électriques [TICKETS]
03/02: Ottawa, ON @ Maverick's [TICKETS]
03/03: Toronto, ON @ Lee's Palace [TICKETS]
03/04: Rochester, NY @ Montage Music Hall [TICKETS]
03/05: Pittsburg, PA @ Preserving Underground [TICKETS]
03/06: Indianapolis, IN @ Emerson Theatre [TICKETS]
03/07: Louisville, LA @ Diamond Concert Hall [TICKETS]
03/08: Detroit, MI @ The Sanctuary [TICKETS]
03/09: Chicago, IL @ Reggies [TICKETS]
03/10: Milwaukee, WI @ X-Ray [TICKETS]
03/11: St. Paul, MN @ Turf Club [TICKETS]
03/12: Winnipeg, MB @ Park Theater [TICKETS]
03/14: Calgary, AB @ Dickens [TICKETS]
03/15: Edmonton, AB @ Starlite Room [TICKETS]
03/17: Vancouver, BC @ Rickshaw Theater [TICKETS]
03/18: Seattle, WA @ El Corazon [TICKETS]
03/19: Portland, OR @ Dante's [TICKETS]
03/21: Santa Cruz, CA @ The Catalyst 
03/22: Petaluma, CA @ Phoenix Theater [TICKETS]
03/23: Fresno, CA @ Full Circle [TICKETS]