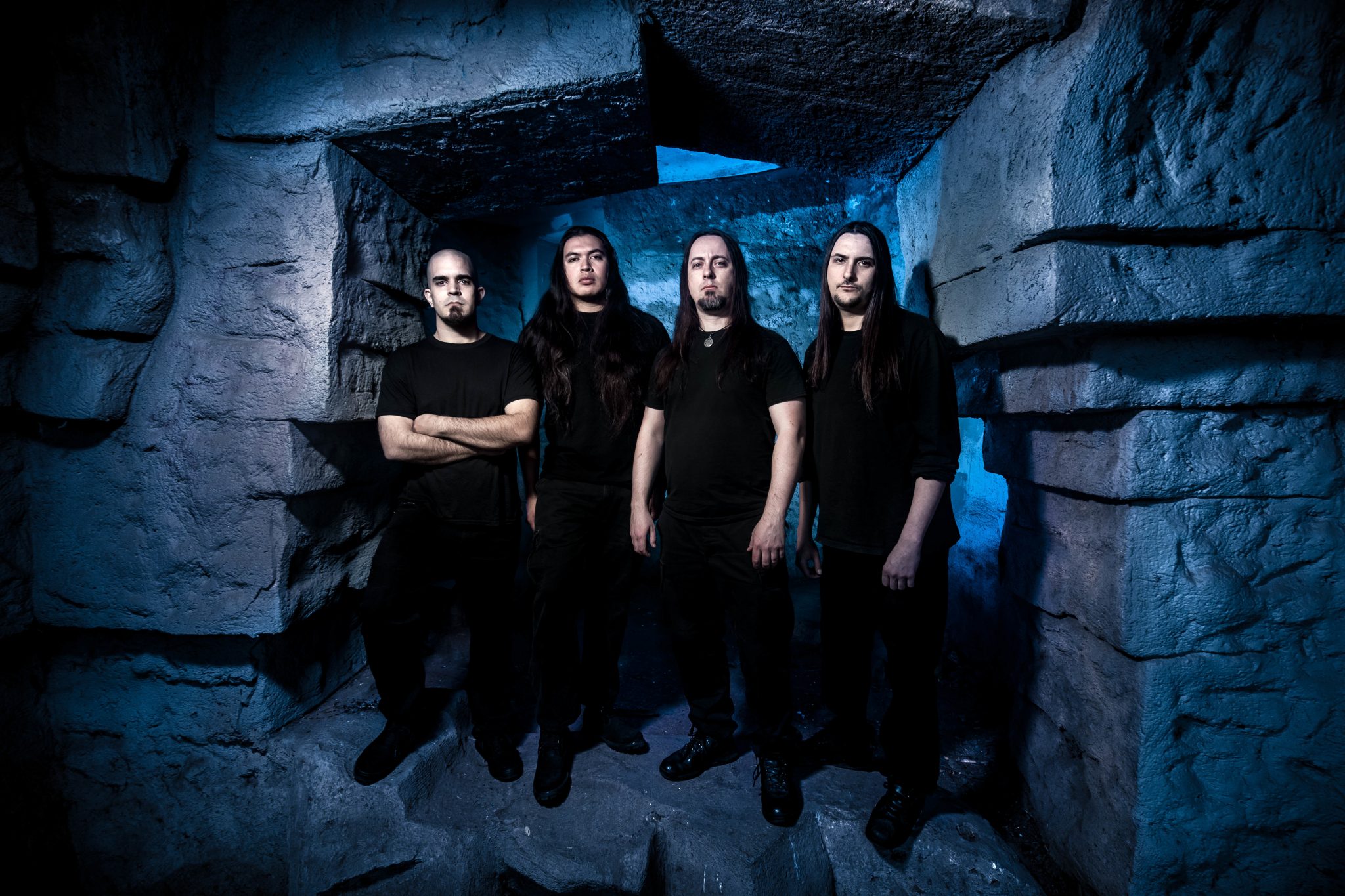 Death metal masters
ABYSMAL DAWN
will be embarking on a North American tour as direct support for VADER in February of next year! The run will kick off on February 4 in San Diego, CA and will conclude on February 28 in the band's hometown of Los Angeles. The full run of dates can be found below. For updates on ticket links and on-sale times, follow
ABYSMAL DAWN
on BandsInTown
HERE
.
In addition to the tour announcement, ABYSMAL DAWN has even bigger news in store for 2020! The band has just completed work on their long-awaited fifth studio album, which will be their debut to Season of Mist. The forthcoming full-length was mixed by Charles Elliott and produced and recorded by Charles Elliot and Mike Bear at Tastemaker Audio while the drums were tracked by John Haddad at Trench Studios. The offering was mastered by Tony Lindgren at Fascination Street Studios.
Speaking about the upcoming offering, ABYSMAL DAWN comments:
"We're officially done with album number 5! It's been quite some time since we released any new music, and we feel we have something special on our hands. It took a lot of time, effort, and seeing through some trying times to get to this moment. We're very proud of the outcome and think fans will agree it was worth the wait. Musically we're pushing our limits more than ever, while still maintaining what people love about Abysmal Dawn. Now we take a quick breath before getting back once again to spreading our brand of misanthropic extreme metal across the globe. See you on the road in 2020!"

ABYSMAL DAWN North American Dates
Supporting Vader (w/ Hideous Divinity)
:
02/04: San Diego, CA @ Brick by Brick
02/05: Mesa, AZ @ Club Red
02/06: El Paso, TX @ Rockhouse Bar & Grill
02/07: Austin, TX @ Come and take it Live!
02/08: Dallas, TX @ Gas Monkey Bar & Grill
02/09: Houston, TX @ Warehouse Live Studio
02/11: Orlando, FL @ The Haven
02/12: Fayetteville, NC @ The Drunk Horse Pub
02/13: Philadelphia, PA @ Milkboy
02/14: Brooklyn, NY @ The Warsaw
02/15: Manchester, NH @ Jewel Nightclub
02/16: Quebec City, QC @ Le D'Auteuil
02/17: Montreal, QC @ Foufounes Electriques
02/18: Toronto, ON @ Velvet Underground
02/19: Detroit, MI @ Sanctuary
02/20: Chicago, IL @ Reggies
02/21: Minneapolis, MN @ Studio B @ Skyway Theatre
02/22: Kansas City, MO @ The Riot Room
02/23: Denver, CO @ Marquis Theater
02/25: Seattle, WA @ Club Sur
02/26: Portland, OR @ Bossanova Ballroom
02/27: Oakland, CA @ Metro Opera House
02/28: Los Angeles, CA @ 1720 **Hometown show**
[Photo credit: Rodrigo Fredes]
Los Angeles is typically known for its Hollywood glamour and Sunset Strip hair bands, but ABYSMAL DAWN is one of the city's rare exports, serving as the antithesis of any vapid stereotypes that one might assume from a Californian music collective. Fusing together old school death metal with elements of the genre's contemporaries, the band create a sound that exudes refined melodic brutality and impressive technicality.

Spawned in 2004, ABYSMAL DAWN's debut three-song EP quickly garnered attention from both the underground and the genre's elite. Upon dropping their first full-length, 'From Ashes,' in 2006, the band were met with media praise, with Blabbermouth calling the offering "irreproachably constructed." When it came time to record their third full-length in 2010, ABYSMAL DAWN's lineup had completely reformed, leaving vocalist/guitarist Charles Elliott as the only original member. Despite this massive change, 'Leveling the Plane of Existence' would become seminal staple within American death metal circles.

By album number four, ABYSMAL DAWN had tightened up and released one of the most revered record in their career, 'Obsolescence.' The band took everything that they already did great and somehow managed to do it even better. The press took notice; Pop Matters called 'Obsolescence' "a record that is born from chaos and is nuclear-powered in terms of its merciless aural assault on the listener" while New Noise declared that "Abysmal Dawn may have delivered the best death metal album of 2014." The latter sentiment was shared by The Village Voice, who named 'Obsolescence' the #1 metal album of 2014, hailing it as "the closest thing to a perfect metal album that you will hear this year."

The following year, the band toured Europe in support of DEATH TO ALL and LOUDBLAST, while continuing to decimate North America alongside death metal giants such as CANNIBAL CORPSE, OBITUARY, CRYPTOPSY, and so many more, further fortifying their legacy.
Come 2018, the band once again evoked change. With a new line-up, ABYSMAL DAWNinked a deal with Season of Mist as they prepared to unleash the next opus in their storied career. Two years later, the highly-anticipated masterpiece is complete and finally ready to wreak havoc. The forthcoming effort was mixed by Charles Elliott and produced and recorded by Charles Elliott and Mike Bear at Tastemaker Audio. Stay tuned…
Line-up:
Charles Elliott: guitars, vocals
Eliseo Garcia: bass, additional vocals
James Coppolino: drums
Vito Petroni: guitars
Album Credits:
Mixed by Charles Elliott at Tastemaker Audio.
Mastered by Tony Lindgren at Fascination Street Studios.
Rhythm guitars and vocals tracked and produced by Mike Bear with Charles Elliott at Tastemaker Audio.
Lead guitars, bass, additional vocals and guitar re-amping tracked and produced by Charles Elliott at Tastemaker Audio.
Drums tracked at Trench Studios by John Haddad with Charles Elliott.
Editing by Mike Bear and Charles Elliott.
For more on ABYSMAL DAWN, visit their official FACEBOOK, TWITTER, INSTAGRAM, and BANDCAMP.