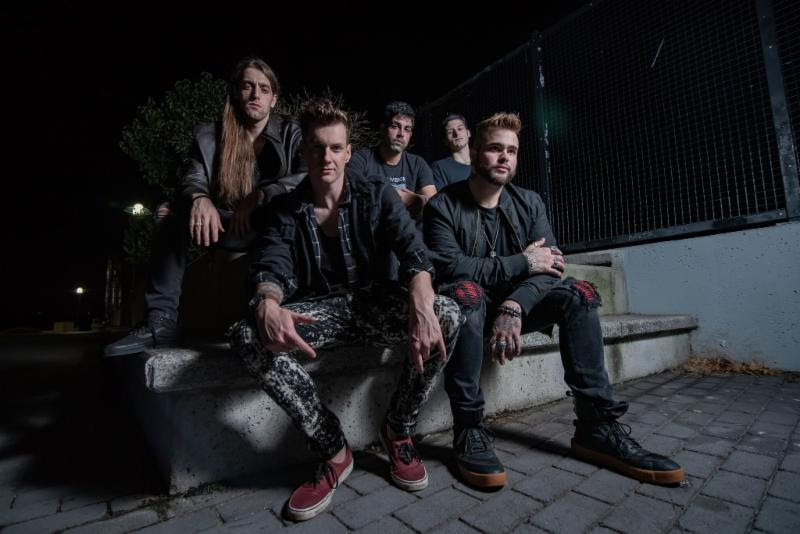 Pre-Order ABSENCE OF DESPAIR's New Album, Desolate,
Here
Modern metalcore upstarts
ABSENCE OF DESPAIR
unveil a guitar playthrough for the track "Bite My Tongue," available today exclusively via
Ultimate-Guitar.com
. "Bite My Tongue" is the first single from the Rhode Island-based band's upcoming new album,
Desolate
, set for release on September 13.
"This jam creeps up on you," guitarist Dillon DiSimone expounds. "The moment full band joins in on 'Bite My Tongue,' strap yourself in to a rollercoaster that's on fire. By the first note of the verse, the guitars are zooming along, relating to the lyrical sense of madness. Every note is ringing out for the first portion of the verse to give it that hectic and chaotic atmosphere. Halfway through that verse, you hear the guitars tighten up with an altered palm muted version of the lick. The pre-chorus rhythm guitar introduces rouge waves of intensity with bursts of triplets, accompanied by an uplifting guitar lead at 0:44. Guitars abruptly stop, all to set up the first chorus to absolutely slap when it comes in. Seasoned throughout that bouncy chorus riff are key bends, pinches and dissonant chugs keeping the energy up. We introduce the breakdown with just one guitar, building it up to eventually have the whole band hammering down on that same riff, representing the realization and sudden urgency to not bite your tongue a second longer."
The high-octane music video for the headbang-inducing track was revealed a few weeks ago and can be seen here:
https://youtu.be/_5Mh0Kb8vIQ
. The "Bite My Tongue" video was shot by Matty LaBonte of Crown Media Collective.
"'Bite My Tongue' is a definite favorite to play live, especially on guitar," says guitarist Tyler Caruso. "The riffs are hard-hitting and fun to jam."
Dillon DiSimone adds, "We walked into a room with the idea to write a song, that could showcase our deliverance of heavy-meets-catchy and walked out with 'Bite My Tongue.'"
The new albumfeatures 12 brand new, heavy-hitting anthems that showcase this hard-working, up-and-coming band's undeniable raw talent. Ripping, intense metal grooves blended with addictive hooks poise ABSENCE OF DESPAIR's Desolate as an undeniable metalcore favorite of 2019. The album immediately bursts into a brutal assault of fast-paced grooves on the opener, "ESC", and continues to traverse a melodic-yet-darkened metalcore landscape on tracks like "Bite My Tongue" and "Godkiller." Anthemic tracks such as "Fearless" and "This Reckoning" solidify the band's keen ability to write unforgettable hooks without sacrificing sinister riffage, while "Lost & Hopeless" provides an example of ABSENCE OF DESPAIR's more extreme side.
Desolate
pre-orders are available
here
via the band's website, and will be available via all digital retailers very soon.
Desolate was recorded, mixed and mastered by Josh Schroeder (For The Fallen Dreams, King 810, The Color Morale) at Random Awesome Studios in Midland, Michigan.
ABSENCE OF DESPAIR endorses Fishman, GHS Strings, Empire Ears, Coldcock Whiskey, InTune Guitar Picks and Sennheiser.
ABSENCE OF DESPAIR is:
Joe Reynolds: Vocals
Tyler Caruso: Guitar/Vocals
Dillon DeSimone: Guitar/Vocals
Mike Perrotta: Drums
ABSENCE OF DESPAIR online: