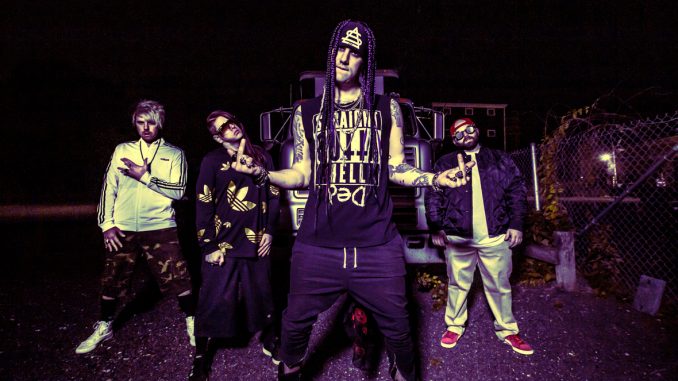 Active Rock / Metal Band ABOVE SNAKES has released the official music video for their latest single, "Never Alone," which has already garnered over 50,000 streams on Spotify. Directed by Adrienne Beacco and Jake Jones at Excelleration Media, "Never Alone" explores themes of chaos and resolution with a visual backdrop of modern gothic horror.
"'Never Alone' is about being trapped in a chaotic time in life and just before it gets worse, A special force pulls you away from the evil in life whether it's a person, a spirit, or your own self conscious, knowing now you'll never be alone.
This video tells a story of where I was in life and how a significant other ripped me away from it all and brought me back to life" – Johnny Skulls
"Working with Adrienne Beacco and Jake Jones on this Video was such a blast! Both super creative people who made a lot of our ideas truly come to life! The video was shot in 2 full days with the performance scenes shot on a green screen set we built ourselves, along with the other scenes shot outside where we built the cemetery and dug the grave too, pretty stoked on how everything turned out!" – Dax Dabs
Download / Stream "Never Alone" Online:
"Rise above, Never look back Middle finger to the world, with a bottle of Jack"
After years of living in the filth among shady, ego driven Villains Johnny Skulls and Dax Dabs decided they weren't going to take it anymore. It was the dawn of a new day. Following orders and getting in line was now a way of the past. They packed their bags and made their way back to Boston, destined to rise above and create their own future.
Just this July, the band released their debut single, "Adrenaline," to over 45,000 views on YouTube, along with Spotify placements on Loudwire's Weekly Wire, Hopeless Records' Moshed Potatoes, and Pandora's New Rock Now Playlist, to name a few. They followed up "Adrenaline" with "Never Alone" on Halloween 2020, which quickly garnered 50,000 streams on Spotify with a placement on Spotify's "Rock Hard" and another spot on Loudwire's Weekly Wire.
Working with producer Kile Odell (Fozzy, Through Fire, Awake At Last), "Never Alone" is the second chapter of the forthcoming EP by Above Snakes.