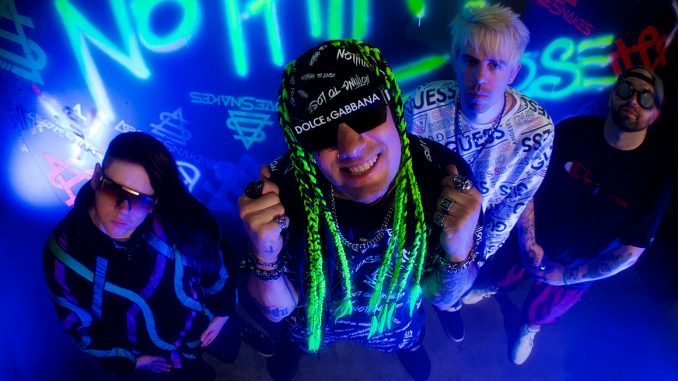 Active Rock / Nu Metal Band ABOVE SNAKES has released the official music video for their latest single, "The Broken Ones," the follow up single to "Nothing to Lose," which saw support from KIBZ, KILO, WTPT, WZOR, and WXRX.
Produced / mixed by KILE ODEL (NITA STRAUSS, DAVID DRAIMAIN of DISTURED, SHAMANS HARVEST, FOZZY), "The Broken Ones" is an upbeat, catchy anthem for the picked on and outcasts who thrive on being unique and different. "Nothing to Lose" is paired with a larger than life, horror themed music video that welcomes fans into the land of the broken ones and was directed by lead singer JOHNNY SKULLS and guitarist DAX DABS and filmed at the world famous Haunted Overload in Lee, NH.
Purchase / Stream "The Broken Ones" Online:
The band is also set to hit the road with FROM ASHES TO NEW, FIRE FROM THE GODS, and BLIND CHANNEL on the hotly anticipated STILL PANICKING TOUR! Launching March 3 in Pittsburgh, PA, the tour winds throughout the US, wrapping up April 16th in Reading, PA.
TOUR DATES: 03/03 @ Jergel's Rhythm Grille – Pittsburgh, PA 03/04 @ The Machine Shop – Flint, MI 03/05 @ The Forge – Joliet, IL 03/06 @ Rockstar Lounge – Ft. Wayne, IN 03/08 @ Elevation @ the Intersection – Grand Rapids, MI 03/09 @ Canopy Club – Urbana, IL 03/11 @ 1175 Sports Eatery – Kansasville, WI 03/12 @ Stormy's – Beaver Dam, WI 03/13 @ Sanctuary – Fargo, ND 03/15 @ The Bourbon Theatre – Lincoln, NE 03/17 @ Sunshine Studios Live – Colorado Springs, CO 03/18 @ Loading Dock – Salt Lake City, UT 03/20 @ El Corazon – Seattle, WA 03/22 @ Knitting Factory Concert House – Boise, ID 03/23 @ Virginia St Brewhouse – Reno, NV 03/24 @ Whisky A Go Go – West Hollywood, CA 03/25 @ Marquee Theatre – Tempe, AZ 03/26 @ Encore Tucson Country Club – Estates, AZ 03/27 @ RockHouse Bar & Grill – El Paso, TX 03/29 @ The Rock Box – San Antonio, TX 03/30 @ Amplified Live – Dallas, TX 03/31 @ Scout Bar – Houston, TX 04/02 @ Club LA – Destin, FL 04/03 @ TBA 04/05 @ Shagnasty's – Huntsville, AL 04/06 @ Capone's – Johnson City, TN 04/07 @ Blind Tiger – Greensboro, NC 04/08 @ Hooligans Music Hall – Jacksonville, NC 04/09 @ Blue Fox Billiards – Winchester, VA 04/11 @ TBA 04/12 @ TBA 04/13 @ TBA 04/14 @ Recher Theater – Townson, MD 04/15 @ Montage Music Hall – Rochester, NY 04/16 @ Reverb – Reading, PA
Click for Additional Dates & Ticketing Information.
After years spent grinding in the ever-dimming lights of Hollywood, vocalist Johnny Skulls and guitarist Dax Dabs opened their eyes and realized what so many never do: "why the f*ck are we trying to do it THEIR way?" At that moment, what once felt so distorted and lacking in its luster was now crystal clear. With nothing but the open road and their own volition staring back at them, the two joined forces after years of friendship and returned to where it all started.
In 2019, the duo found their way back home to Boston and began working relentlessly on a new project: Above Snakes. They would soon partner with producer Kile Odell (NITA STRAUSS, THROUGH FIRE, FOZZY) and in the summer of 2020, the band released their debut track "Adrenaline", which quickly earned a spot on PANDORA'S "NEW ROCK NOW" alongside PAPA ROACH, FIVE FINGER DEATH PUNCH, & I-PREVAIL including Spotify placements from the likes of LOUDWIRE, FEARLESS RECORDS, & HOPELESS RECORDS.
"Adrenaline" was soon followed by their next single "Never Alone", with a massive placement on SPOTIFY'S "ROCK HARD" playlist alongside BRING ME THE HORIZON, ARCHITECTS, & SEETHER.
In February of 2021 the third single "I Feel Bad" premiered with SLIPKNOT'S KNOTFEST.COM. In March of 2021 the guys returned to the studio with Producer Kile Odell for the start of a full length record due out later this year.
On October 15th Above Snakes released a new single "Nothing To Lose" which premiered with New Noise Magazine, Added to Apple Music's BREAKING HARD ROCK Playlist.
With the release of the new single "The Broken Ones" which came out on February 11th, the band will be touring with FROM ASHES TO NEW, FIRE FROM THE GODS, BLIND CHANNEL, & KINGDOM COLLAPSE ON A FULL US TOUR March 3rd THROUGH APRIL 16TH.