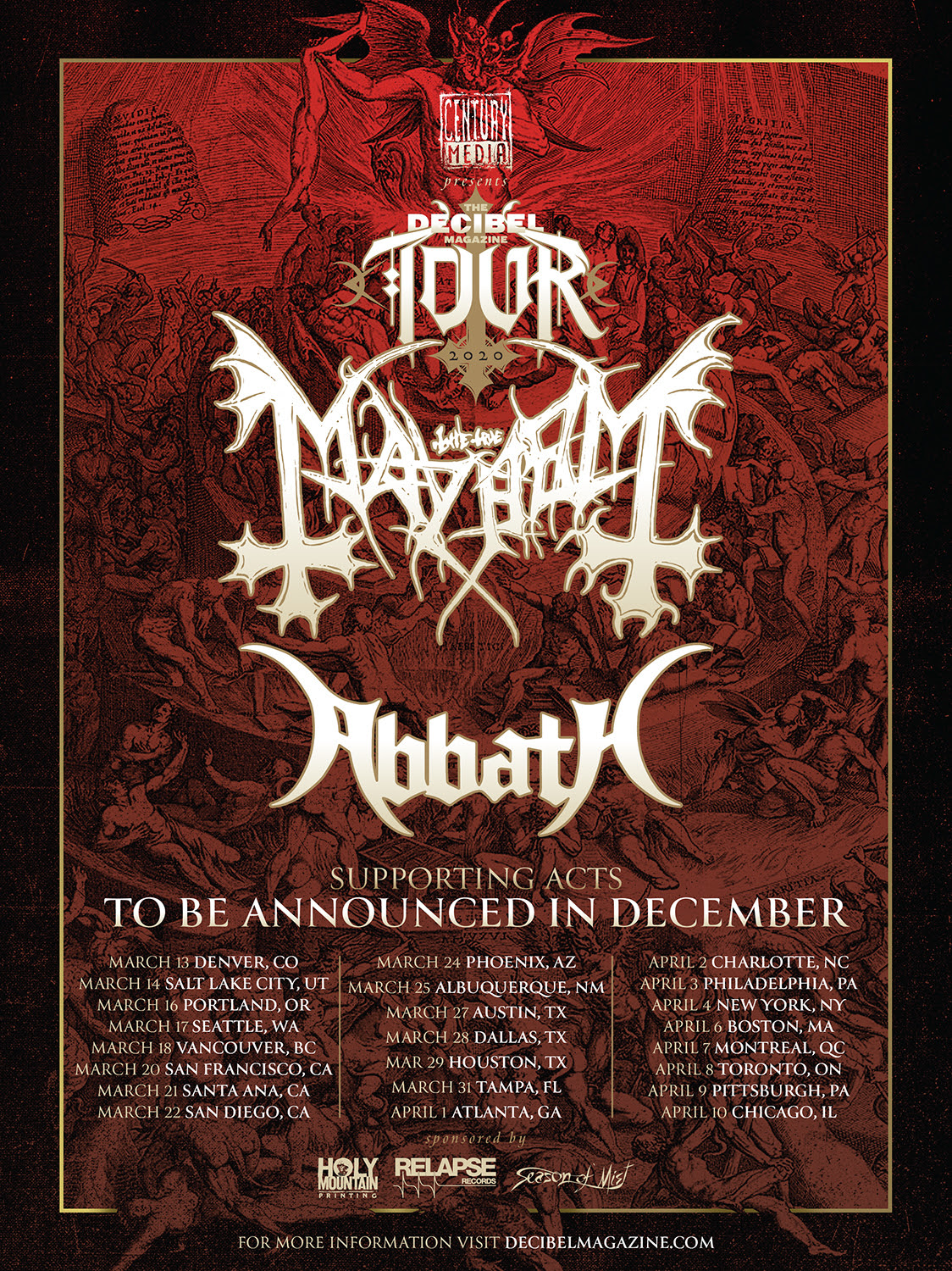 Norwegian black 'n' roll titans
ABBATH
will be returning to North America in 2020 as part of the Decibel Magazine tour along with MAYHEM. The dates will also include an appearance at Decibel Magazine Metal and Beer Festival in Philadelphia, PA on April 3. The tour will kick off on March 13 in Denver, CO and will conclude on April 10 in Chicago, IL. The full itinerary can be found below.
Tickets will go on sale THIS Friday, November 8 at 10:00 A.M. local time. All tickets can be found at THIS LOCATION.
ABBATH w/ Decibel Magazine Tour 2020:
03/13: Denver, CO @ The Ogden Theatre
03/14: Salt Lake City, UT @ The Complex
03/16: Portland, OR @ Roseland Ballroom
03/17: Seattle, WA @ Showbox Market
03/18: Vancouver, BC @ The Imperial
03/20: San Francisco, CA @ The Regency Ballroom
03/21: Santa Ana, CA @ The Observatory
03/22: San Diego, CA @ The Observatory NP
03/24: Phoenix, AZ @ The Pressroom
03/25: Albuquerque, NM @ Sunshine Theater
03/27: Austin, TX @ Empire Garage
03/28: Dallas, TX @ Gas Monkey Live
03/29: Houston, TX @ White Oak Music Hall
03/31: Tampa, FL @ The Ritz
04/01: Atlanta, GA @ Masquerade
04/02: Charlotte, NC @ The Underground
04/03: Philadelphia, PA @ The Fillmore (Decibel Metal & Beer Fest)
04/04: New York, NY @ Webster Hall
04/06: Boston, MA @ The Paradise
04/07: Montreal, QC @ Corona Theater
04/08: Toronto, ON @ Danforth Music Hall
04/09: Pittsburgh, PA @ Mr. Smalls
04/10: Chicago, IL @ The Metro
ABBATH will be touring in support of their sophomore record, 'Outstrider,' which is out now! Order it HERE.
For a taste of the band's ferocious live show, watch the recently released official music video for the song "Hecate," taken from the band's latest full length 'Outstrider.' The video, which was shot by Francisco Munoz can be seen HERE.
ABBATH is currently on tour in Latin America. The band will also be embarking on a European headliner tour in January 2020, with label mates 1349 and VLTIMAS. Find a full list of tour dates below.

ABBATH (Latin America Headlining Tour):
11/05: Salvador @ Cifco
11/06: Costa Rica @ Peppers Club
11/08: Quito, EC @ Sala De Eventos La Ideal
11/10: Bogota, CO @ Teatro Mayor
11/12: Santiago, CH @ Blondiet
11/13: Buenos Aires, AR @ Club Palermo
11/14: Patagonia Rivadavia, AR @ Sotano Club
11/16: Brasilia, BR @ Aruc
11/17: Sao Paulo, BR @ Carioca Club
11/19: Limeira, BR @ Bar Da Monthana
11/20: Porto Alegre, BR @ Opinao
11/21: Rio, BR @ Teatro Odisea

ABBATH Euro Tour (w/ VLTIMAS + 1349):
01/23: Weimar (DE) @ Uhrenwerk (tickets)
01/24: Bochum (DE) @ Matrix (tickets)
01/25: Nijmegen (NL) @ Doornroosje (tickets)
01/26: Antwerpen (BE) @ Trix (tickets)
01/27: London (UK) @ Islington Assembly Hall (tickets)
01/28: Paris (FR) @ La Machine Du Moulin Rouge (tickets)
01/29: Nantes (FR) @ Stereolux
01/30: Toulouse (FR) @ Metronum (tickets)
01/31: Barcelona (ES) @ Salamandra (tickets)
02/01: Madrid (ES) @ But (tickets)
02/02: Lyon (FR) @ Nikasi Kao (tickets)
02/04: Mannheim (DE) @ MS Connexion Complex (tickets)
02/05: München (DE) @ Backstage (tickets)
02/06: Luzern (CH) @ Schüür (tickets)
02/07: Parma (IT) @ Campus Music Industry (tickets)
02/08: Brno (CZ) @ Fleda (tickets)
02/09: Warschau (PL) @ Progresja (tickets)
02/11: Berlin (DE) @ Festsaal Kreuzberg (tickets)
02/12: Hamburg (DE) @ Kulturpalast (tickets)
02/13: Copenhagen (DK) @ Amager Bio (tickets)
02/14: Gothenburg (SE) @ Tradgarn (tickets)
02/15: Stockholm (SE) @ Fryhuset Klubben (tickets)

ABBATH live 2020:
05/02/20: Kopervik (NO) @ Karmøygeddon Metal Festival (Exact date TBA)
The 'Outstrider' cover artwork, which is created by Kim Holm and Olav Iversen, can be found below along with the tracklist.
Track listing:
1. Calm in Ire (Of Hurricane) (04:32)
2. Bridge of Spasms (03:49)
3. The Artifex (04:09)
4. Harvest Pyre (04:12)
5. Land of Khem (04:08)
6. Outstrider (05:39)
7. Scythewinder (04:17)
8. Hecate (04:25)
9. Pace till Death (BATHORY cover) (03:41)
Total: 38:52
When Abbath announced that he had left IMMORTAL, it sent massive shockwaves through the metal scene. The iconic frontman had long become the "face" of the Norwegian black scene, his image synonymous with the genre. Upon releasing his debut album with his eponymous new band,
ABBATH
, in 2016, trve fans were satiated with a dose of icy, blackened fury.
Now, the Norwegian giant returns for round two, armed with a refined lineup and ready to strike with a sophomore effort that is sure to once again exceed the expectations of Abbath's loyal fanbase. 'Outstrider' sees a maturation in sound, delivering a tighter, well-rounded offering from the band as they come into their own identity.
While there are moments that certainly channel the frosty hallmarks of IMMORTAL, there is no danger of
ABBATH
repeating that formula.
ABBATH
draws from NWOBM and melodic influences, adding a fresh new flavor to the sound that the band's founder came to define.
'Oustrider' consists of eight, crushing original songs and concludes with a fiery BATHORY cover. The album promises a full-on aural assault from start to finish with frigid riffage and a robust pocket that are layered with vocals from one of the most identifiable voices in black metal. If you thought
ABBATH
came in hot with their last record, just wait until you hear this!
Style: Black Metal
Line-up
Abbath – Vocals & guitars
Ole Andre Farstad -Guitars
Ukri Suviletho – Drums
Mia Wallace – Bass
Available formats:
Digipak
Clamshell box + extra's
LP in various colours
Casette

For more on ABBATH, visit their official WEBSITE, FACEBOOK, and INSTAGRAM.