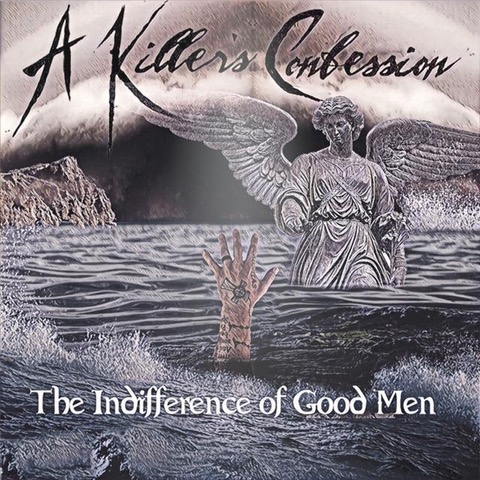 I am a big believer in the universe putting certain things, like music, in your life at specific times. How I hadn't heard of A Killer's Confession having been a Mushroomhead fan for many years (too many for me to admit too) and being a Tallah fan (whom AKC toured with last year) HAS to be proof of this.
A Killer's Confession formed in and is comprised of (former Mushroomhead) vocalist Waylon Reavis, Mark Alexander (guitar,) JP Cross (bass,) and Morgan Bauer (drums). Their debut album was released in 2017 through EMP, David Ellefson's label, which for me is a big backing. Unfortunately, that contract expired but AKC decided to keep the momentum going and put a couple of songs out on Spotify garnering well over 2 million streams, and a ton of new fans, all while proving the backing of a label isn't necessary, though it can help.
Now signed with Wake Up! Music Group, we are treated to a brand-new album titled 'The Indifference of Good Men.' With the ongoing theme throughout the album being very relevant to today's world and the indifference of so many contributing to the dark path, we seem to be headed down.
The standout song for me personally is Numb for many different reasons. It is a beautiful song that really showcases Reavis' clean vocals and the rest of the bands' true musicianship. The lyrics deal with a very difficult and sensitive subject that has touched and affected far too many people; suicide. On my first listen, the lyrics "I've become so numb" along with that beautifully haunting melody hit me hard. The video for Numb really focuses on the after-effects of suicide for all those close to the person who felt this was their only choice. The Shore is another song I think will really connect with a vast number of people on a personal level. It tackles the feelings of fighting for a goal, whether that's a relationship, an object, or anything else, and feeling like it is always just out of reach. While the album does deal with some pretty deep subject matter the overall sense is quite positive.
Going into the last few songs, the album gets away from a bit, as Reavis shows more of his growl type vocals, and I prefer his clean voice. Now, this is just a personal preference and the music quality does not differ in any way. If you are a fan of a good Nu-Metal album, especially in the vein of Linkin Park, be sure to check out A Killer's Confession; I guarantee you will be happy you did.