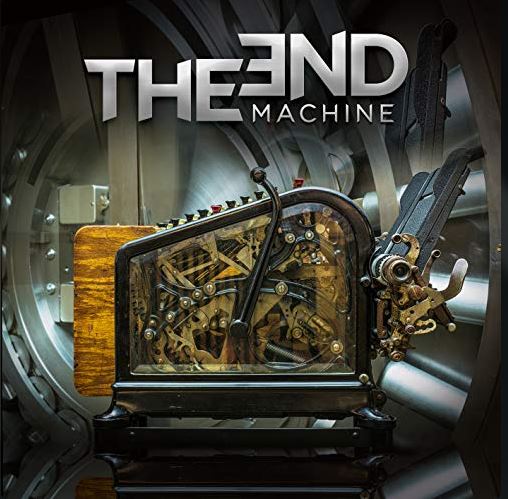 I never go into a situation with any type of expectations. Kevin Gates (Brainyquote)


Let's get something out of the way….I wasn't fan of DOKKEN.
It's not that I didn't like them. They simply weren't a band that I gravitated to in the '80's. I recognized and enjoyed songs like 'Dream Warriors' and 'Just Got Lucky'. I just didn't make an effort to buy albums or go to concerts. We were more acquaintances than friends.
So when I heard there was this new band, The End Machine, made up of DOKKEN members, George Lynch, Jeff Pilson and Mick Brown with vocals by WARRANT singer Robert Mason, I went in basically 'blind' and with few expectations.
Bad idea. I should have had expectations. Big ones.
Because The End Machine would have blown them all away.


Guitar-centered melodies…
With their self-titled debut , The End Machine (released March 22nd via Frontiers Music SRL) these rock and roll icons take all the best things about rock and roll and stand it up front and center. The guitar-centered melodies (and harmonies!) are well balanced with the driving drum beats and Mason's vocals bring all the emotion and passion that keeps rock fans coming back for more.
"Leap of Faith" starts us out with this guitar fade in that makes you think, "what is that" before ramping us to full-speed in about 2 seconds. It's a great song that sets the tone for the rest of the album and showcases just what these guys can do.
"Hold Me Down" is up next. Guitar and drums duke it out, setting up a faster beat in a song that will have you nodding and singing along before you know it.
"Bulletproof" slows it down with just a touch of a southern rock accent. We're back up to speed with "Ride It" before the acoustic opening to 'Burn The Truth" bring yet another of the many faces of rock music to the party.


There's got to be a ballad…
True to my own nature, my favorite song on the album is the ballad, "Sleeping Voices". Mason's vocals play the starring role, but the instrumental backup had me putting the song on repeat.
Of course, the whole album was on repeat. In fact, just playing it for this review had the hubs coming in from the other room asking, "Hey, who is this? This is great music!"
So there you have it. If you're a DOKKEN fan, a WARRANT fan or just fan of great rock and roll, get the self-titled album from The End Machine.
It's everything you want on your rock playlist.
Tracklisting:
1.Leap Of Faith
2. Hold Me Down
3. No Game
4. Bulletproof
5. Ride It
6. Burn the Truth
7. Hard Road
8. Alive Today
9. Line of Division
10. Sleeping Voices
11. Life Is Love Is Music