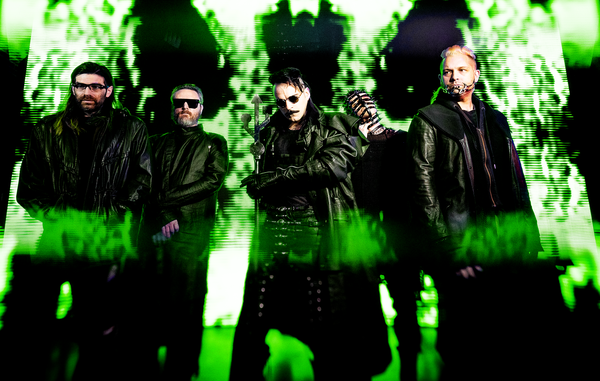 Industrial Provocateurs 3TEETH
Zero In On The Grave Tolls Of
Human Excess And Corporate Consumption
In Rousing New Single + Video For "Slum Planet"
The Latest Track From Upcoming New Album
Coming Soon Via Century Media And
Featuring Several Tracks Produced By
DOOM Composer Mick Gordon
(Photo credit: Jim Louvau)
As the hits of the world keep coming, so does ripe new material from 3TEETH. Today, the modern industrial act provides another tempting taste of their anticipated new album with the release of "Slum Planet," featuring production from DOOM composer Mick Gordon. It's featured alongside a gripping new video from one of Hollywood's leading directors Matteo Santoro (who grew up with 3TEETH frontman Alexis Mincolla).
Repeating the anthemically charged chorus, "I don't care if you live or you die, as long as you're willing to buy," the song takes aim at the ills of a sick planet obsessed with over-consumption at all costs, further admonished in an attention-grabbing mid-track diatribe from frontman and creative lead Alexis Mincolla.
As Mincolla explains the track, "An ecosystem? More like an ego-system. 'Slum Planet' is a monument to the hubris of mankind, to the ruthless exploitation of nature in the name of progress, to the willful blindness of those who chose profits over preservation."
"Slum Planet" continues 3TEETH's series of monthly teases leading up to their anticipated fourth album coming soon via Century Media Records (with more details to be announced soon).
It follows the May 3 release of their explosive return to the fold with
"Merchant of the Void,"
hailed as a one of the "best new songs" by
Metal Hammer
and
Revolver
. While
Metal Hammer
says the song "traces lineage in both Al Jourgensen and Trent Reznor,"
Revolver
hails the song as "utterly gigantic and over-the-top in the best way possible" and applauds the return of
3TEETH
in 2023 at a time "when we needed their apocalyptic, incendiary industrial-metal most."
To lay the foundation for the new material,
3TEETH
migrated to the deserted quiet of Joshua Tree, escaping from the palpable anxiety of their hometown of Los Angeles for fresh new perspective. The material is currently being wrapped up with a solid extended team including the accomplished sound designer
Mick Gordon
(best known for his work on the gaming phenomenon
DOOM
) who produced several of the tracks along with producer
Nick Rowe
and mixer
Sean Beavan (NIN)
, bringing in another dimension to the band
'
s unmistakable sound.
Says Gordon,
"
3TEETH
are one of my favorite acts. They proudly fly their own unique flag. The new album charts course through the next stage of our vanity-led evolution as a species, and by that I mean the album is a world unto itself. I
'
m just stoked that these guys have allowed me along for the ride."
ABOUT 3TEETH
3TEETH first manifested their cybersocial intentions as early as 2013: a musical entity born out of Mincolla's Downtown L.A. weekly gatherings known as "Lil' Death" With Xavier Swafford (keys, synth), Chase Brawner (guitars) and Andrew Means (bass, synth) joining Mincolla. 3TEETH released their first self-titled album the following year. Alliances with the likes of TOOL and Rammstein resulted in the collective's first live performances and a rise to further notoriety with the release of 2017's album shutdown.exe. which took 3TEETH to global stages. Working alongside producer and mixer Sean Beavan (NIN) at new label home, Century Media, 3TEETH upped their own sonic arms race with Metawar (2019) and entered a new echelon of cultural consciousness with a collection of tracks including the biting "President X" and their haunting take on Foster the People's "Pumped Up Kicks."
"The modern carriers of the industrial rock torch" — Revolver
"State-of-the-art sensory overload with take-no-prisoners level of aggression" — Rolling Stone
"3TEETH bring the aggression with aplomb" — Loudwire
3TEETH is:
Alexis Mincolla – vocals
Chase Brawner – guitars
Xavier Swafford – keyboards and synthesizer
Andrew Means – bass
Nick Rossi – drums
Find 3TEETH Online