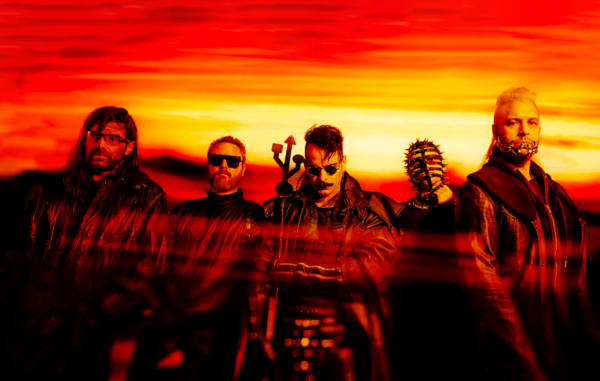 Paired With Music Video Giving Inside Look At Industrial Act In Studio
Recording New Album EndEx
First New Album In 4 Years
Out September 22 Via Century Media Records
With Several Tracks Produced By
DOOM Composer Mick Gordon
Pre-Orders For EndEx Available
HERE
Continuing with the series of monthly singles ahead of the release of new album EndEx in September, 3TEETH is sharing the brand-new track and video for "Drift," offering a rare, stripped-back sound for the modern industrial act, honing in on a more emotive electro sound.
It's paired with a music video that provides an intimate look at the five members in the studio, with insider portraits teeming with 3TEETH's brand provocateur. There's slithering reptiles, plumes of fire, an arsenal of artillery, loads of tech wizardy and desolate desert landscapes, taken from California's Joshua Tree where the band holed up to work on EndEx.
Says 3TEETH frontman and creative lead Alexis Mincolla of the track, "Resignation is a testament to a life well-lived, a life unrestrained by fear or regret. It's the final triumphant flicker in the lantern, the last traces of a wild, fiery spirit burning brilliantly against the encroaching darkness as we drift from the mundane reality of flesh and bone to the spectral void where consciousness floats freely, unencumbered by the constraints of our physical existence."
3TEETH's new album EndEx will be released by Century Media Records on September 22, showcasing the modern industrial act at their most raucous yet, unveiling bold revelations of humanity's technosocial disintegration behind a brutal soundtrack that sounds all the alarms.
It's the band's first album since
2019's Metawar
, which
Consequence
just named as one of the
Top 50 Industrial Albums of All Time
, hailing
3TEETH
as "one of the modern bands keeping industrial alive."
EndEx
features the handiwork of a solid extended team including the accomplished sound designer
Mick Gordon
(best known for his work on the gaming phenomenon
DOOM
) who produced several of the tracks along with producer
Nick Rowe
and mixer
Sean Beavan (NIN)
, bringing in another dimension to the band
'
s unmistakable sound.
Early singles have included noisemaker "Paralyze" (featuring Ho99o9); the gripping sonic salvo, "Merchant of the Void," that touches on the bleak landscape of modern society amid A.I. takeovers and economic collapse; "Slum Planet," taking aim at the ills of a sick planet obsessed with over-consumption at all costs; and Scorpion," a track in which the band's instrumental arsenal is tempered by alluring female vocal chants that provide an ambient feel.
Early tracks have been hailed as some the "best new songs" by
Metal Hammer
and
Revolver
. While
Metal Hammer
says the new
3TEETH
material "traces lineage in both Al Jourgensen and Trent Reznor,"
Revolver
hails the new music as "utterly gigantic and over-the-top in the best way possible" and applauds the return of
3TEETH
in 2023 at a time "when we needed their apocalyptic, incendiary industrial-metal most."
Ahead of the release of EndEx in late September, 3TEETH will release two more singles. Other highlights on the album include a cover of Tears for Fears' "Everybody Wants to Rule the World," continuing 3TEETH's penchant for aggressive reworks of pop songs, previously seen on Foster the People's "Pumped Up Kicks," Sweet's "Ballroom Blitz" and Dead or Alive's "You Spin Me Round (Like A Record)."
EndEx will be available in CD, Gatefold LP, and digital album formats. Special formats include:
Red LP (available at all EU outlets)
Red Smoke LP (available at all US outlets)
Utra-Clear / Red Splatter LP (available from 3TEETH)
Utra-Clear / Red Splatter LP (available from Revolver)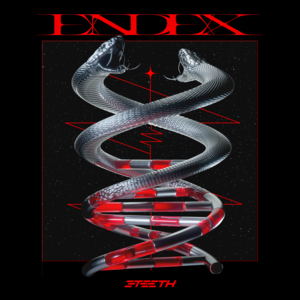 EndEx Tracklist:
1. Xenogenesis
2. Acme Death Machine
3. Slum Planet
4. What's Left
5. Merchant of the Void
6. Higher Than Death
7. ALI3N
8. Plutonomicon
9. Paralyze (feat. Ho99o9)
10. Scorpion
11. Drift
12. Everybody Wants To Rule The World
(Photo credit: Jim Louvau)
ABOUT 3TEETH
3TEETH first manifested their cybersocial intentions as early as 2013: a musical entity born out of Mincolla's Downtown L.A. weekly gatherings known as "Lil' Death" With Xavier Swafford (keys, synth), Chase Brawner (guitars) and Andrew Means (bass, synth) joining Mincolla. 3TEETH released their first self-titled album the following year. Alliances with the likes of TOOL and Rammstein resulted in the collective's first live performances and a rise to further notoriety with the release of 2017's album shutdown.exe. which took 3TEETH to global stages. Working alongside producer and mixer Sean Beavan (NIN) at new label home, Century Media, 3TEETH upped their own sonic arms race with Metawar (2019) and entered a new echelon of cultural consciousness with a collection of tracks including the biting "President X" and their haunting take on Foster the People's "Pumped Up Kicks."
"The modern carriers of the industrial rock torch" — Revolver
"State-of-the-art sensory overload with take-no-prisoners level of aggression" — Rolling Stone
"3TEETH bring the aggression with aplomb" — Loudwire
"3TEETH are one of the modern bands keeping industrial alive"
— Consequence
3TEETH is:
Alexis Mincolla – vocals
Chase Brawner – guitars
Xavier Swafford – keyboards and synthesizer
Andrew Means – bass
Nick Rossi – drums
Find 3TEETH Online