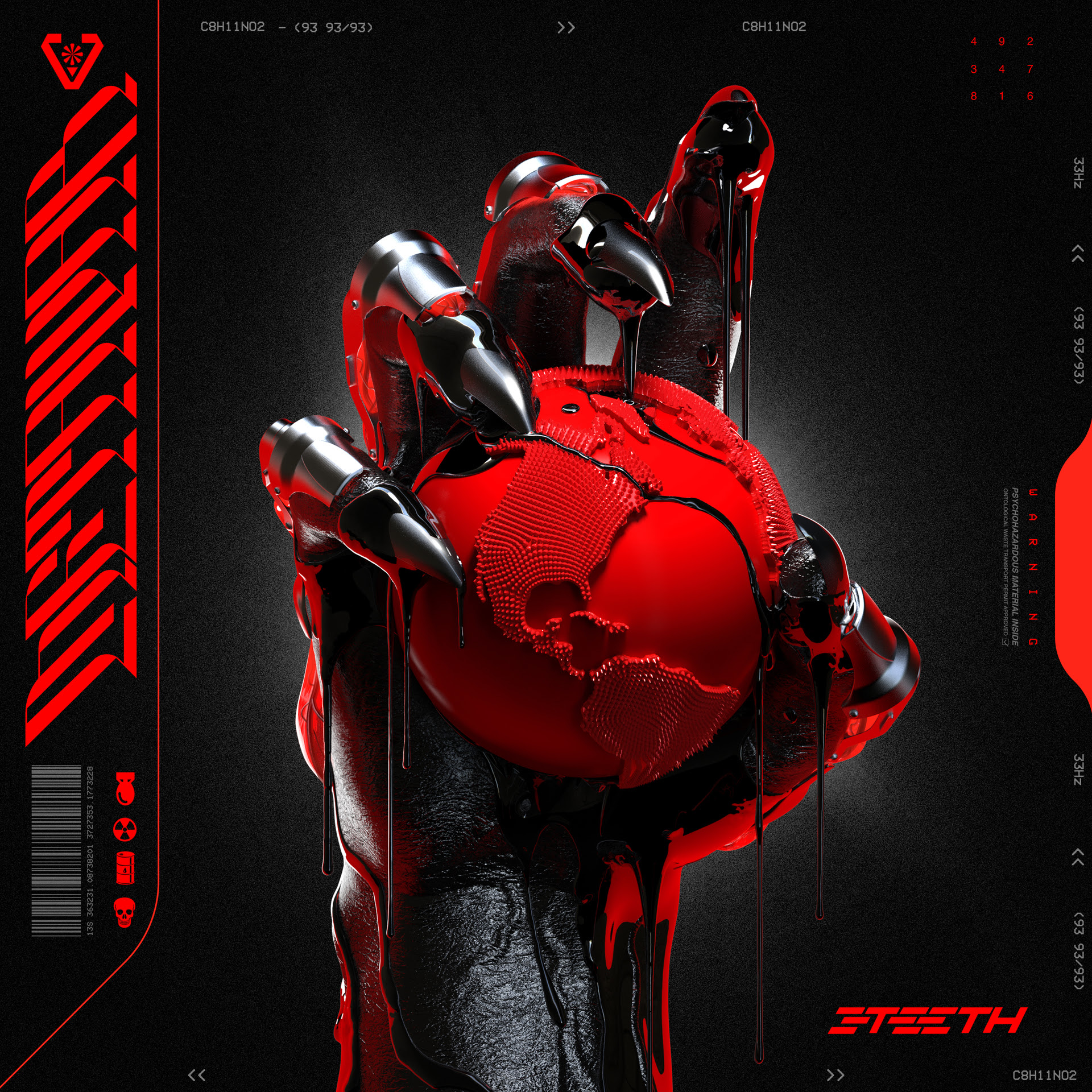 3TEETH RELEASE METAWAR ON JULY 5

PRE-ORDERS AVAILABLE AS BAND DEBUTS

NEW SONG "AMERICAN LANDFILL"

"METAWAR is here to tear down the walls of our memetic concentration camps."

– Alexis Mincolla
April 5, 2019 (LOS ANGELES) – 3TEETH, the LA-based outfit who have quickly become one of rock music's most promising new bands, release METAWAR on July 5 via RED Music.

"If our debut album was focused on man vs. the world, and our sophomore album was man vs. himself, then I really wanted to METAWAR to focus on the idea of world vs world, and the notion that if man doesn't create his own world then he's often crushed by the world of another," explains 3TEETH frontman Alexis Mincolla. "This album is meant to be sonic attack on the wide scale perception management systems that currently grip our respective worlds. It's a sort of counter-measure in the invisible silicon war of ideology that is constantly moving avatar pawns on the battleground of our large-scale prosthetic digital nervous system. Thematically it's centered largely around concepts of accelerationism and the political heresy of inviting the end as an opportunity as a fresh start. METAWAR is here to tear down the walls of our memetic concentration camps."

3TEETH preview the Sean Beavan (Nine Inch Nails/Marilyn Manson) produced album with "AMERICAN LANDFILL" (https://RED.lnk.to/3Tal), an unrelenting song Mincolla says is intended to convey the feel of "getting buried under the ruin of a fallen empire." The track is available as an instant download with pre-orders, which can be found here: https://RED.lnk.to/MetaWar.

The band released their self-titled debut album in 2014, seeing the 14-track album top the iTunes electronic charts and garnering the attention of Tool guitarist Adam Jones, who offered the outfit a spot on their 2016 U.S. tour. Being handpicked by one of rock music's biggest bands led to a new level of attention, with Rolling Stone profiling the band, saying 3TEETH's music is "a mix of state-of-the-art sensory overload with a take-no-prisoners level of aggression." Tool audiences were so receptive to the band's powerful live show, they were invited to return for the next leg of that tour. Once off the road, 3TEETH locked themselves in the studio to crank out their sophomore release, <shutdown.exe>. The album hit #23 on Billboard, and landed them tours across North America and Europe — headlining, and supporting acts such as Rammstein and Danzig. The Independent, upon the release of <shutdown.exe>, "3TEETH harken back to an era where industrial music sounded like a genuinely dangerous soundtrack to a dystopian present day reality.
METAWAR track list:

HYPERSTITION
AFFLUENZA
EXXXIT
AMERICAN LANDFILL
PRESIDENT X
ALTÆR
TIME SLAVE
BORNLESS
SURRENDER
SELL YOUR FACE2.0
BLACKOUT
THE FALL
PUMPED UP KICKS

3TEETH is Alexis Mincolla (vocals), Xavier Swafford (keyboards), Andrew Means (modular synth/bass), Chase Brawner (guitar) and Justin Hanson (drums).

# # #