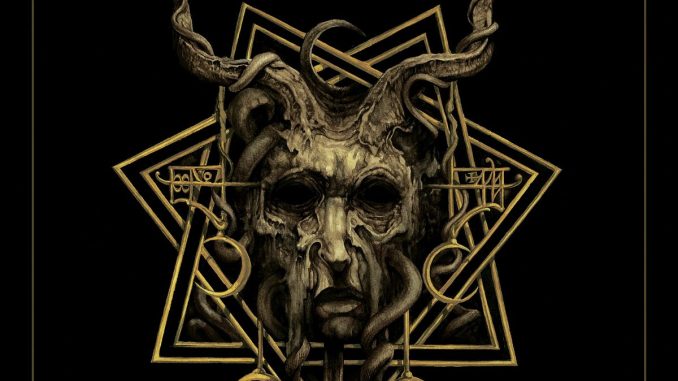 1349 guitarist Archaon and bassist Seideman have teamed up with members of Chilean thrash outfit NUCLEAR and HELLMAN to perform a cover of CELTIC FROST's "Usurper!" The clip is now premiereing via Metal Injection and can be found at THIS LOCATION.

1349 bassist Seideman comments, "This version of the Celtic Frost classic doubles as a tribute to the legends themselves as well as a tribute to friendship and brotherhood. Metal music brings people from all over the world together and this combination of Nuclear and 1349 is no exception."

Punto of Nuclear adds: "We're very pleased to pay tribute to one of the most influential acts in extreme metal history. This idea started as a simple chat in backstage when both bands were touring together in Europe. After that everything went black in pandemic and we put the things rolling to record the song and film this video. It was a real honour for us work alongside such talented musicians and cool guys."

1349 is supporting 2019's 'The Infernal Pathway,' which can be streamed, downloaded, and ordered HERE.
The cover artwork of 'The Infernal Pathway' has been created by Jordan Barlow and can be viewed below, together with the tracklist.
Norwegian black metal titans 1349 have returned with their long awaited seventh full-length: 'The Infernal Pathway'. The album promises a journey through chaos and madness, darkness and peril, terror and annihilation.

1349 is AURAL HELLFIRE. That has been, and continues to be, the primary concept since the band first rose from the ashes of Alvheim in 1997. Conceived around the founding members – vocalist and former drummer Ravn, guitarist Tjalve, and Seidemann on bass – 1349 completed their line-up with the addition of guitarist Archaon in 1999 and SATYRICON drum-legend Frost in 2001.

When their debut 'Liberation' was unleashed in 2003, the Norwegians took the world by storm with their intense blend of old school black metal soundscapes and ultra-fast aggression. Further assaults followed in rapid succession. 'Beyond the Apocalypse' (2004) and 'Hellfire' (2005) cemented the band's reputation as one of the strongest acts in the scene.

Upon the departure of founding member Tjalve, who decided to focus on his band PANTHEON I, 1349 have since continued as a four-piece – occasionally adding guest guitarists. Extensive touring aided the growth of their now massive following when the four piece opened for reunited metal legends CELTIC FROST in North America in 2006.

Impressively demonstrating that holding true to the principles of the genre do not mean nostalgia and stagnation, 1349 widened their sonic palette with 'Revelations of the Black Flame' (2009), which was co-mixed by CELTIC FROST mastermind Tom Gabriel "Warrior" Fischer. This inspired a newfound ambient darkness from the band, which was further explored on 'Demonoir' (2010).

'Massive Cauldron of Chaos' (2013) was the next milestone in the Norwegians merciless advance, scoring excellent reviews and a nomination for a Norwegian Grammy (Spellemannprisen). The release sparked more festival shows as well as extensive touring, bringing 1349 to Australia and New Zealand. In 2018, the Munch Museum and Innovation Norway chose 1349 as one of four bands to create a song based on the paintings of Edvard Munch. As a result, the single 'Dødskamp' was released earlier this year.

After performing a fiery show at Norway's Inferno festival this year, 1349 started recording in Amper Tone studios and Studio Nyhagen with engineer Jarrett Pritchard. Thus, 'The Infernal Pathway' was born, a sonic parallel to summoning and unleashing the beast of the abyss in all its fearsome, ferocious and powerful splendor.

Gearing up for a full U.S. tour in the fall, and a European tour with ABBATH and VLTIMAS in 2020, more events will unfold, making this a banner year for 1349.

Line-up
Seidemann: bass
Ravn: vocals
Archaon: guitars
Frost: drums

Photo credit: Dmitry Valberg

Cover artwork: Jordan Barlow

Recording studio: Amper Tone and Studio Studio Nyhagen

Engineered, mixed and mastered: by Jarrett Pritchard

Produced: by Jarrett Pritchard and 1349

Guest musicians: Destroyer – backing vocals on "Abyssos Antithesis" and "Striding the Chasm"

Style: Black Metal

For more on 1349, visit their official FACEBOOK, INSTAGRAM, WEBSITE, and TWITTER.